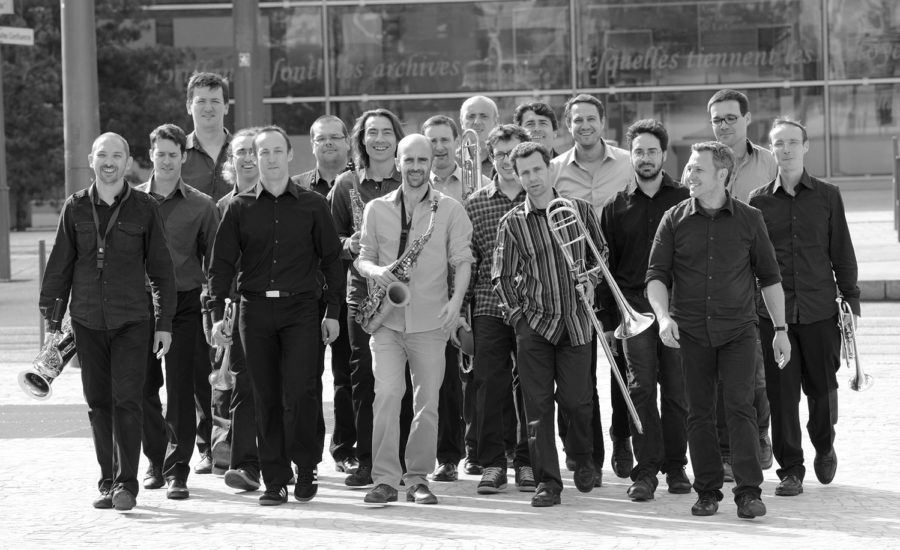 The Big Band de l'ŒUF gathers some of the best soloists of the Rhône-Alpes region since 2003 around several original repertoires composed by Pierre BALDY-MOULINIER.
Thanks to its participation in numerous festivals such as Jazz à Vienne, Beaune, RhinoJazz, or collaborations on large-scale projects with the National Orchestra of Lyon, or internationally renowned artists such as Stefano Bollani, Bert Joris, Pierre Drevet, Leonard Slatkin, the group has acquired a certain maturity in the approach of the repertoire for large groups.
After recording 3 albums, this professional big band is involved in a pedagogical approach of collaboration with music schools, providing an original repertoire for large ensembles: string orchestras, harmonies, big-bands, combos or choirs.
In 2021, the show Petits Plats pour Grand Ensemble was created. This original creation, combining gastronomy and music, was directed by Cécile AUXIRE and offers the public the possibility to participate in an experience where all the senses are mixed. The audience is indeed involved in an act of co-creation, since it can choose during the show, through a menu, the pieces that will be played, and, as a result, the dishes prepared live on stage by a chef.
The investigation towards new musical forms, towards a greater variety of timbres for the orchestra and the work on long pieces is part of the main research axes approached. The intensity of the commitment of each musician allows the ensemble to affirm its creative identity, which is expressed in a hybridization of genres. Whatever the project, the goal is always to "democratize" jazz music and make it accessible to a very large number of people, while maintaining the "research laboratory" aspect. The whole is served by inspired musicians with communicative energy.
David Bressat Quintet
23.02.2023
L'Oeuf Big Band : Astro-Symphonie
25.11.2022
Supergombo
07.07.2022
Pierre BALDY-MOULINIER (Trombone, euphonium, flugelhorn, flute)
Antoine BOST (Tenor and soprano sax)
David BRESSAT (Piano, keys)
Jean CROZAT (Bass trombone)
Olivier DESTEPHANY (Trombone, euphonium)
Sylvain FELIX (Baritone sax, alto, bass clarinet)
Hervé FRANCONY (Alto sax, clarinet, flute)
Hervé HUMBERT (Drums)
Christophe METRA (Trumpet, flugelhorn)
Basile MOUTON (Double bass, bass)
Vincent OLLIER (Tuba, euphonium)
Guillaume PLUTON (Trumpet, flugelhorn)
Boris POKORA (Alto sax, clarinette, soprane, flute)
Eric PROST (Tenor and soprano sax)
Fabien RODRIGUEZ (Percussions)
Hervé SALAMONE (Trumpet, flugelhorn)
Bruno SIMON (Guitare)
Vincent STEPHAN (Trumpet, flugelhorn)
David Bressat Quintet
23.02.2023
L'Oeuf Big Band : Astro-Symphonie
25.11.2022
Supergombo
07.07.2022