Le Petit Faucheux in Tours : You can't judge a club by its capacity.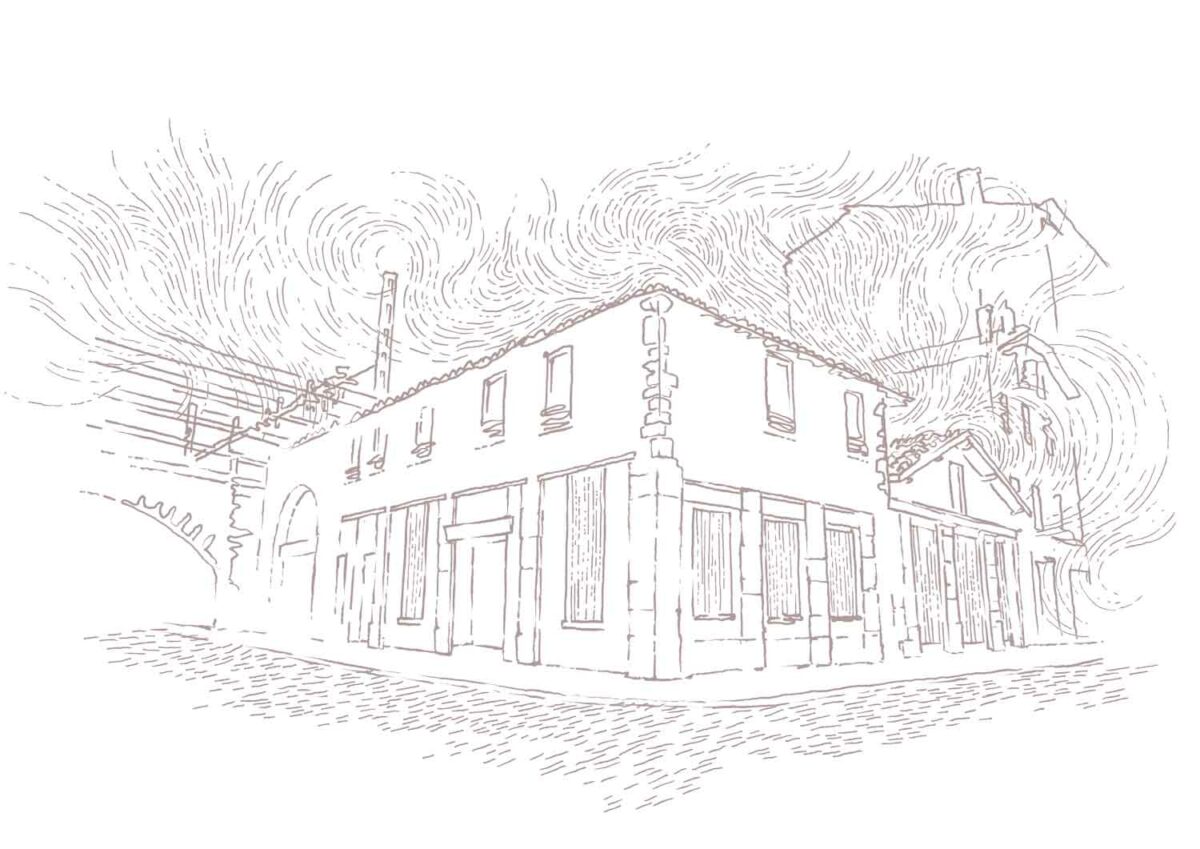 Welcome to the club.
You can't always trust appearances. While Le Petit Faucheux might seem to be just a small club in the city of Tours with an audience capacity of a mere 200, "in reality it is so much more than that," says Sylvain Élie, who took over the role of Managing Director there in August 2022. Indeed, the more one looks into the background, the deeper the truth in that statement becomes. And as will be mentioned right at the end of this article, the name of the club, fortuitously, also carries exactly the right resonances.

The club and the organisation behind it – which Élie also runs, and which produces other events and festivals across the region throughout the year – is at the heart of extensive networks of musicians and music educators, regionally, nationally, and internationally.
One important factor is the amount of activity in jazz and related music which happens in the area. JazzRadio.fr recently described Tours as "THE city to discover for jazz lovers." There is a legacy of jazz in the region going back at least forty years, but these days there is also a snowball effect. Tours has become a magnet for musicians looking to develop their careers, and to be part of a substantial ecology and support network, with Le Petit Faucheux as the strong beating heart of it all.
A fantastic club for a fantastic city
---
Tours and the area around it is the base for quite a few busy artist collectives and labels, notably Capsul Collectif, La Saugrenue, and UnJeNeSaisQuoi, all in Tours itself, plus Veston Léger in nearby Amboise – and Le Petit Faucheux is an important resource for them to use. During the day it is a well-equipped space for rehearsal and recording, a place where they are definitely welcome to try out new things. The team at Le Petit Faucheux also keeps very close links with local education establishments: the Conservatoire, the jazz school Jazz à Tours and the musicology department at the city's University, named after one of the greatest of free thinkers, François Rabelais.
Tours is also somewhere a number of significant French jazz musicians call home. Drummer Edward Perraud, pianist/composer Guillaume de Chassy, trumpeter Jean-Luc Cappozzo and saxophonist Yoann Loustalot all live in the area, and the charismatic saxophonist/bandleader Thomas de Pourquery has recently joined them. He explains the appeal: "I have quite a few musical friends who are "Tourangeaux". It's such a good musical scene. Magnificent, in fact!" And his visits to Le Petit Faucheux are not limited to when he is booked to play there, it is also a good place to go and listen. He told me he had recently gone there to enjoy a concert by flautist/composer Sylvaine Hélary and bassist/ multi instrumentalist Sarah Murcia. De Pourquery is in no doubt as to the significance of Le Petit Faucheux: "It is an emblematic club, and an important venue on the French scene."
"It is an emblematic club, and an important venue on the French scene."
Economic and practical/topographical factors certainly play a role in making Tours an attractive place to be. Fast trains do the journey to Gare Montparnasse in Paris in just over an hour. House prices in Tours are far more affordable than in the capital. And, digging into history, the city by the Loire has historically been a place of power and significant influence for long periods: the "livre Tournois" (Tours pound) was the main French currency for over five hundred years, from 1262 until losing out to the franc in 1793.
A fantastic club for a fantastic scene
---
These days, what is happening at the Petit Faucheux may be at more of a micro level than, say, ruling the country or setting its currency…but it's still incredibly impressive. The moment one talks to anyone who has a direct association with the club, one notices their truly remarkable shared commitment to build an effective, authentic and sustainable scene around Tours, and also to use music to reach out and have a worthwhile effect on society.
That sense was particularly clear when I spoke to Sylvaine Hélary, an important figure on the French scene. She is currently the club's Associate Artist in Residence, and has been involved in a variety of outreach and education projects. She remember vividly her early impressions of working with the Petit Faucheux team: "The first things that left their mark on me as I got to know them was how joined-up and interconnected they are, how they all share the same ideals and objectives, and how totally committed they all are to achieving them."
And that impression is certainly reinforced when one listens to a key figure in the organisation, Isabelle Boulanger. She is responsible for leading the organisation's educational work and for maintaining and developing links with communities and local authorities. In fact, in my brief conversation with Boulanger, the surprises never seemed to stop. The activity she co-ordinates is incredibly broadly based. Artists associated with the club work in everything from pre-school, mental health, prison and care home settings to normal schools from crèches to Lycées. In addition to work in the broader community, the more specialised musical institutions such as the music school Jazz à Tours are also important partners.
Boulanger communicates vividly the deep sense of belief that music can have a positive societal effect. Her role is that of an intermediary to bring inspiring and creative musicians into roles where they can change lives. In the broadest terms, as she expresses it, "we see music as a resource to do other things." And as she speaks, her vivid memories paint pictures. She remembers musicians such as Sylvaine Hélary and bassist Sébastien Boisseau bringing life, animation and inspiration into all kinds of settings.
Boisseau came up with an innovative idea called the "salon" to bring music into homes, workplaces and other contexts. "What was extraordinary was how quickly Isabelle understood exactly what the idea of the "salon" was all about, and how she took the initiative to introduce me to an organisation called Cultures du Coeur. It was a crucial step in speeding up the whole process, and helping the idea gain acceptance. I have just done my hundredth 'salon' in partnership with Le Petit Faucheux."
A stong legacy from a small café-thêatre
---
Le Petit Faucheux has a legacy, a tradition to build on, and it also has a remarkable track record in consistently achieving the pro-active support of all four levels of the French public authorities: city, department, region and state. There are tricky balances to be struck here, but Sylvain Élie is clear that the club's "Cahier des Charges" has approval at all levels, bearing in mind that, for organisations with a specific mission to promote jazz, this level and consistency of support are quite rare. It provides a very good basis to work from.
The club was started in 1983 in a tiny café-théâtre in the old town with a capacity of around 50. It already drew major talent in its early years – some locals still remember concerts by Mal Waldron, Kenny Wheeler, John Abercrombie – and all of the starsof French jazz. There were also jam sessions. "That was my jazz school," says Boisseau, who grew up in the area. In 2005, the city encouraged the club to move to the newly-renovated Théâtre Louis-Jouvet, which was duly re-named Le Petit Faucheux.
The more recent legacy that the current team inherits is also strong, notably in the area of providing female musicians with pathways into the profession and support as they build careers; this remains an absolute and unshakeable priority and is being extended. A notable recent example was the premiere of a work by Yohna Lalanne with a completely female team of performers and creatives which brought the 2022 Festival Emergence to a close. The event did not go unnoticed: it had national TV coverage.
Françoise Dupas will always be remembered
---
The work promoting music created and performed by women is an important part of the heritage of Françoise Dupas (1971-2021). She was director of the club from 2009 until her tragically early passing. Dupas was a strong advocate for jazz and new music, and at the heart of many of the national networks supporting and promoting new music in France. The tribute to her by the French Culture minister Roselyne Bachelot-Narquin described her as "a tireless campaigner for the defence of her convictions" and as a "courageous, generous and committed woman". A musician who knew her well, Thomas de Pourquery remembers her as "an important figure and a generous and luminous person."
Dupas was a well-respected figure in national music circles in France, and Sylvain Élie, who has stepped into this major role, also has the profile in the music sector nationally as an effective leader, mainly from his seven years working with the Orchestre National de Jazz. Originally from Nice, he studied jazz guitar at various conservatoires. He first worked as a theatre actor, which makes the ease of his physical presence when one meets him perhaps less of a surprise. His most recent job was in a senior role in the Centre Dramatique National de l'Océan Indien, on the island of La Réunion. He has worked in a whole host of cultural contexts and everyone I spoke to in the preparation of this piece has reaffirmed that he is the ideal person to be taking on this role.
What's best is yet to come
---
What will be Élie's priorities? One of them is certainly to build significantly on Le Petit Faucheux's "emblematic" status in the city of Tours and among the French musician community: "One of my aims is to strengthen international visibility, developing some European-scale projects and cross-residencies with artists from other countries," he explains. The in-house production team will be strengthened, not least to increase the scope for working with other arts organisations in the region. Given Élie's recent experience running a theatre, he starts off with a good basis to foster that kind of active and fruitful dialogue.
And are there signs that the ambition to keep building the audience are starting to bear fruit? These are still early days – at the time of writing Élie has been in post just three months – but he told me he has seen one thing which was a source of genuine encouragement to him. What piqued Élie's interest was the presence of some cars with Paris number plates outside the club for the concert by American cellist Erik Friedlander, which would imply that some really knowledgeable fans from Paris had made the journey down to hear him. This development is definitely a feather in the cap for the young programmer on the team, Antoine de la Roncière, of whom Élie says "he makes such good choices and we work well and closely together". Could it be the start of a trend? One can only hope…and be encouraged.
---
Non-French speakers may be curious what the name "Le Petit Faucheux" actually means. Faucheux (opiliones) are a branch of the spider genus (the daddy-long-legs is a subspecies). Spiders spin webs. And the construction of webs or networks through which enthusiasm for music can be spread is not just what the Petit Faucheux does every day of the year, and in all kinds of unlikely places, it just happens to be the thing which it does quite exceptionally well.