Forum Jazz: Footprints programme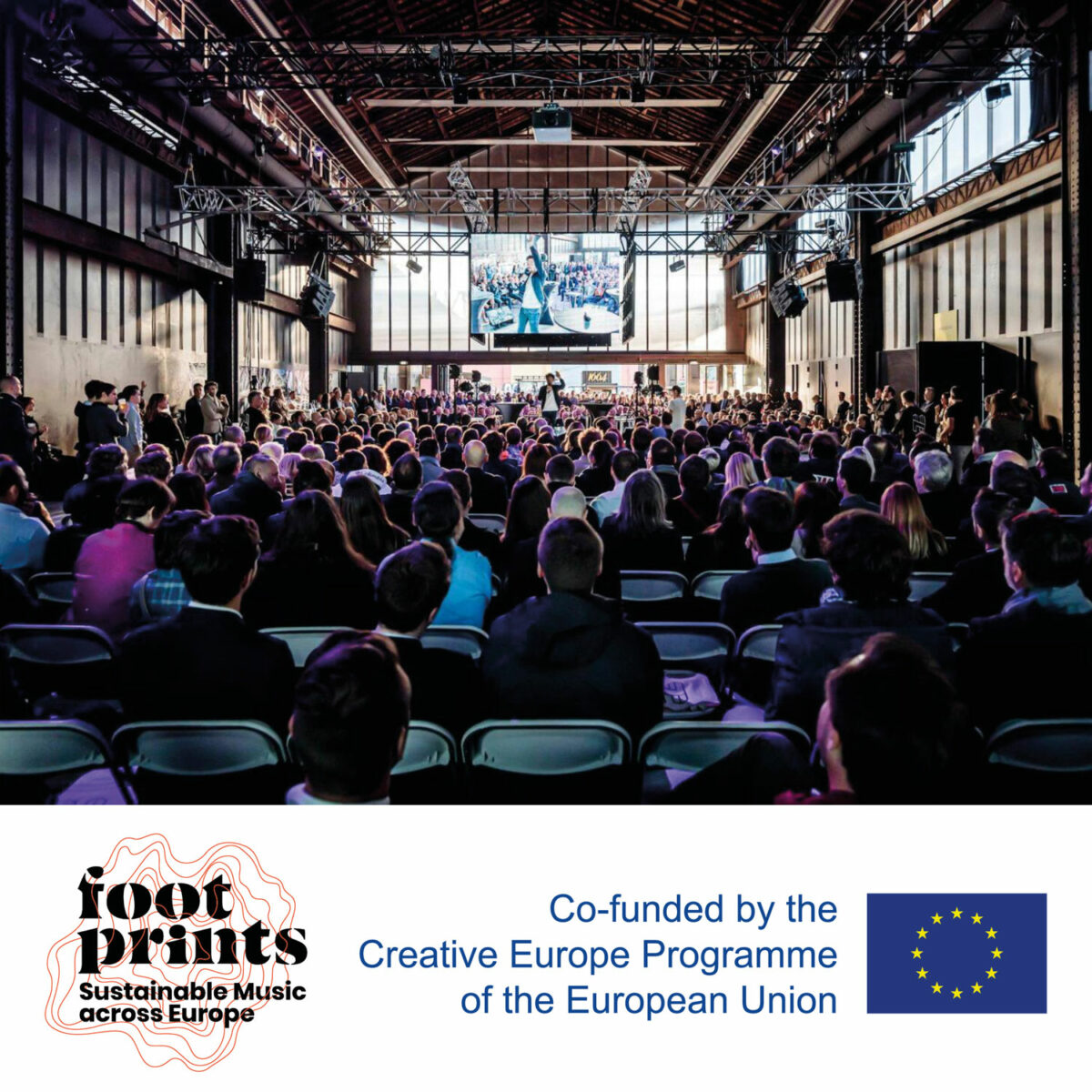 Professional meetings
As part of the Jazz Forum organised by JAZZ(s)RA in Lyon, which runs from Wednesday 29 November to 2 December, we're offering you the chance to immerse yourself in our Footprints project. Join us at H7 on Thursday 30 November from 10am and Friday 01 December from 2pm for meetings and discussions with speakers from our partnerships across Europe.

Footprints is an european collaborative program aiming at helping all the actors of the music to move around the european music market and at consolidating the European creative music community around ecological, social and economic challenges.
It's led by six experienced European partners:
Periscope from Lyon (France), Wytwórnia Foundation from Lodz (Poland), Bimhuis from Amsterdam (Netherlands), Druga Godba from Ljubljana (Slovenia), Austrian Music Export from Vienna (Austria) and Oslo Jazz Festival from Oslo (Norway)

Day 1 – Thursday, 30th November
10h-10h15 • Introduction
Welcoming speech – Pierre Dugelay (Périscope, FR) & Frédérique Joly (Arty Farty, FR)
Greening of the Creative Europe Programme: an overview – Kaupo Paltseri (European commission, EE)
10h15-11h • Preliminary talks
Over the last three years, the Footprints project – sustainable music across europe has been working on ways of looking at the live music sector and its artistic tours in a more sustainable way, in order to respond to the unprecedented ecological crisis in a complicated context for the live music sector.
How can we support artists and ensure the artists' circulation today?
In these 3 keynotes, we'll be looking at the challenges facing our sector, from global to day-to-day issues, from international to local, using the climate crisis as a common thread to challenge our businesses, our values and our missions.
10.15-10.30: Global issues – Virgo Sillama (EMEE – European Music Exporters Exchange, EST)
10.30am-10.45am: Ecological issues – Richard Phillips (Julie's Bicycle, UK)
10.45-11am: Regional issues – Karolina Juzwa (Wytwórnia, PL)
---
11h-12h30 • Regional Networks & Local Communities: An outline
Regional networks, collaboration and territorial networking are all fundamental levers for action to bring about a systemic change in the live music sector.
Indeed, many venues and festivals are working to strengthen their local roots and the links they have with audiences, partner venues and artists, to ensure a more inclusive and coherent approach to artistic events and tours. We'll be hearing from people from the ground who are working to keep music alive.
Laura Ferrero (Kvaka22, SRB)
Daniela Neumayer (Jazzfestival Saalfelden, AT)
Anna Castagna (Jazz is Dead, IT)
Moderator: Katie Kheriji Watts (Freelance Journalist, FR)
---
13h30-14h30 • Better Live presentation
Pierre Dugelay (Le Périscope / JAZZ(s)RA, FR)
---
14h30-15h • Culture as a driver for transition
Music, as a universal expression, has the power to raise awareness, inspire and unite people around common causes. For some, it is an essential condition for personal equilibrium. To what extent can music and culture be a driver for transition in the crisis we are facing, and promote environmental awareness? Matt Brennan, a researcher at the University of Glasgow, will give us a few keys to understanding in this carte blanche.
Matt Brennan (Glasgow University, SCO)
Moderator: Katie Kheriji Watts (Independent culture journalist, FR)
---
15h-15h30 • Organising forces in the Hungarian improvised music scene
This conversation will dive into the Hungarian improvised jazz music scene, present some of its stakeholders and the current challenges it faces. In order to explore the different aspects of this independently organised music scene, the discussion will take the approach of presenting the forces from three different aspects: the musicians and collectives, the communities and the venues. Through this way, it will also take the pulse of the independent music sector from the country.
The discussion is powered by Reset!, the European network gathering and supporting the independent cultural and media sector in Europe and beyond, in partnership with Footprints.

Ernő Zoltán Rubik (Music Programmer at Jazzaj, HU)
Moderator: Katie Kheriji Watts (Independent culture journalist, FR)
---
15h30-17h • Working towards a fair, sustainable, and inclusive music sector
In a rapidly changing political, social, and ecological landscape, building a fairer and more inclusive music sector asks that all of us question longstanding practises. Global warming is widely predicted to further accentuate inequalities and it is urgent that industry players collectively take responsibility for fostering a just and representative music ecosystem. Encouraging artistic diversity ; eliminating barriers based on provenance, gender, or social origin ; and promoting good working conditions are imperative – in addition to lowering carbon emissions.
What are the issues raised by attempts to create a more sustainable live music sector, and how can we ensure equity in this context? Let's attempt find out with this discussion, which will bring the Footprints project's day of conferences to a close.
Gwendolenn Sharp (The Green room, FR)
Adrien Chiquet (Former director of Météo & former advisor to Onda, FR)
Anne-Flavie Germain (Relais Culture Europe – FR)
Moderator : Katie Kheriji Watts (Independent culture journalist, FR)
---
Day 2 – Friday, 1st December
14h-15h45 • Focus on the job of artists' agent in 2023
The role of an agent is never confined to a specific mission, and often extends to different forms of support for musicians, such as distribution, or communication to accompany booking and tour production. Their main mission is to encourage, promote, initiate or facilitate the development of a career for musicians in whom they believe. Three agents/bookers will share their daily lives, the creation of their catalogue, their relationships with artists and their position in relation to promoters, while integrating a European perspective, insofar as they work both on tours by European artists in their own countries and abroad for national artists.
Anne Yven (No earplugs, NO)
Julien Arnaud (Baam production, FR)
Moderator: Kate Werner (Twelve melodies / Wytwórnia, PO)
---
16h-17h30 • Being a programmer today
The programming profession is profoundly in tune with the times, and is going through an unprecedented period of transition. The current context demands a new way of working and a new way of looking at things, taking into account parity, the weight of political and economic lobbies – including in alternative spheres – and the ecological crisis, as well as the local, national and international scales needed to build coherent artistic programming.
The balance between these social, financial and artistic issues adds unprecedented technical complexity, and taking them into account is crucial to the long-term future of a venue or festival. What's more, each context, linked to the history of the venues and their local roots, gives rise to multiple ways of thinking about and constructing programming.
Four programmers from very different local contexts will talk about how they see their job today in an open discussion with the audience.
Kostia Pace (Jazz Station, BE)
Àbel Petneki (BMC, HU)
Annamaija Saarela (GLive Lab Tampere, FI)
Moderator: Karolina Juzwa (Wytwórnia, PL)
The Footprints project is co-financed by the Creative Europe program of the European union