Interview

| Poil & Junko Ueda: Punk under the cherry trees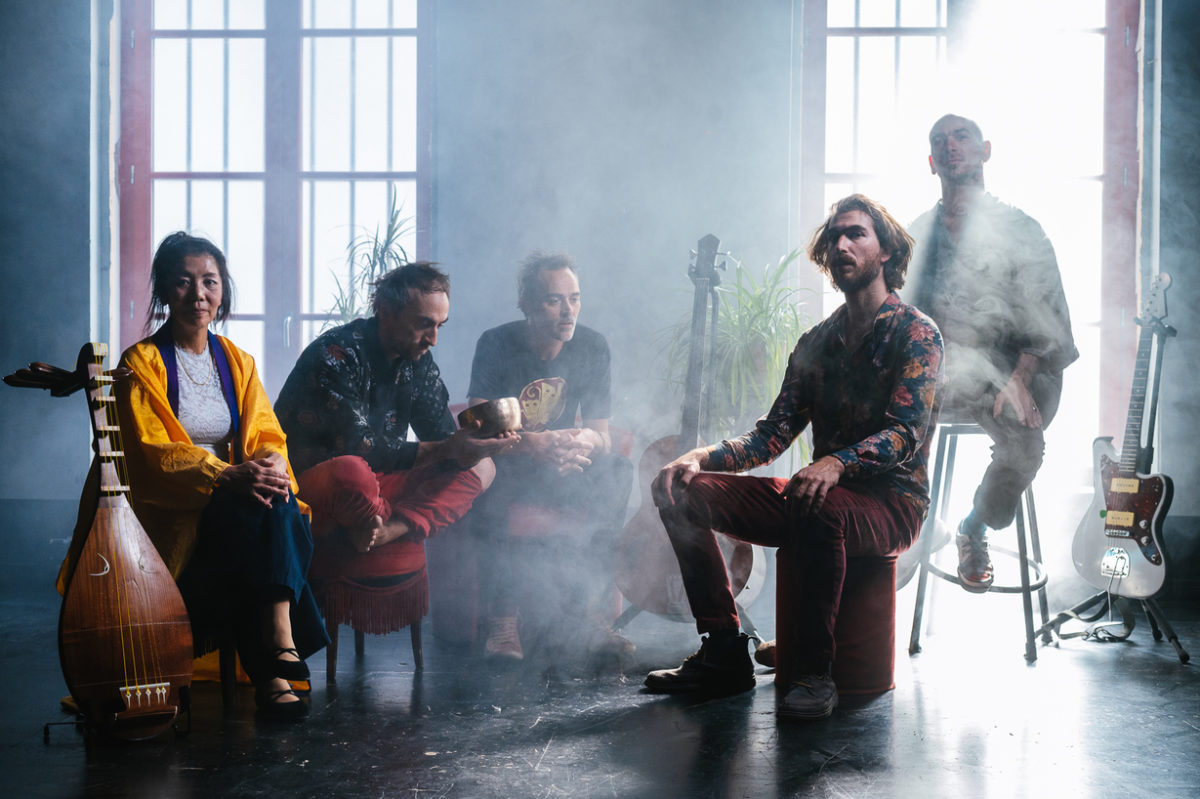 Claviers : Antoine Arnera Guitare : Boris Cassone Basse électro acoustique : Ben Lecomte Batterie & percussions : Guilhem Meier Chant & Satsuma Biwa : Junko Ueda Son : Adrian Bourget & Judicael Brun
Medieval Japan and Disheveled Pilosity
Le Périscope came to the news of the most bearded band of the label Dur et Doux, in search of answers concerning their very recent creation. Poil Ueda is the fruit of an unpublished collaboration of the punk trio PoiL with the Japanese musician Junko Ueda and it is Guilhem Meier, drummer of the group who enlightens us on this opus seizing of originality.

How did you get to know Junko Ueda and what inspired you to do this collaboration?

It's been a while since we have an attraction for some Japanese traditional music and we use (especially in 2 tracks, Gagaku and Fionosphere) in our music. We often have ideas that we leave to the abandonment, as for example to make a hip-hop set, where we toast all 3 without our instruments, or to play with a choir of Occitan songs… There for once, we went to the end! We found Junko under the advice of a friend, then met her during a tour in Spain, in Granada, where she lives. She gave us a private concert in her house, and showed us the tablatures of Satsuma Biwa.
Junko was very excited to play with us because we're a rock band and she'd never done that.

Your two musical worlds seem at first glance quite opposite. How did she perceive your music? What did her vision bring to you?
Opposites attract. The style of music that Junko practices, like many Japanese arts, is quite spare, and goes for expressive power in the purest, most direct gesture, but filled with experience. In PoiL, we are more used to putting as many notes as possible as quickly as possible in order to distinguish only one sound, pure like our childish soul. Junko was very excited to play with us because we're a rock band and she had never done that. And like a fish in water, she came to rehearsal knowing the compositions we had proposed to her better than us. It was the first time she sang in a microphone, with returns, with big cymbals and big amps next to her, and she loves it !
You realize that her style, completely traditional, dating back to the 11th century, is quite punk, in the way she smashes her huge plectrum on her strings, going for the dissonant timbre, the rubbing note, to better appreciate its resolution.
How did this collaboration come together from a distance? How did you initiate the creative work once you got together at Periscope?
His coming kept getting postponed for a year, because of what you know. We composed music from traditional songs that she had recorded, so when it was possible, we edited them with her voice and the demos that we recorded. Then on her side she re-recorded her voice and her Biwa, with her proposals. Then at the Périscope and the Sainte Marie D'En Bas theater in Grenoble, we worked on all the details that we couldn't do remotely, and above all, worked on our stage sound, and front of house with our sound engineers.
You can hear Poil Ueda's effort here
Find PoiL & Ueda on tour :
22.09 – Les détours de Babel (GRENOBLE – FR)
02.10 – La Baie des Singes (COURNON – FR)
05.10 – Punctum (PRAGUE – CZ)
06.10 – Café Wagner (JENA – DE)
07.10 – Zukunft am ostkreuz (BERLIN – DE)
08.10 – Freakshow Festival (WURZBURG – DE)
14.10 – Théâtre de la Renaissance (OULLINS – FR)
16.10 – Atlantique Jazz Festival (BREST – FR)
27.10 – Bee-Flat (BERN – CH)
29.10 – Worm (ROTTERDAM – BE)
30.10 – MS Stubnitz (HAMBURG – DE)
31.10 – Patronaat (HAARLEM – NL) 2022
06.04 – Satellite (LAUSANNE – CH)
09.04 – Les Abattoirs (BOURGOIN JALLIEU – FR)