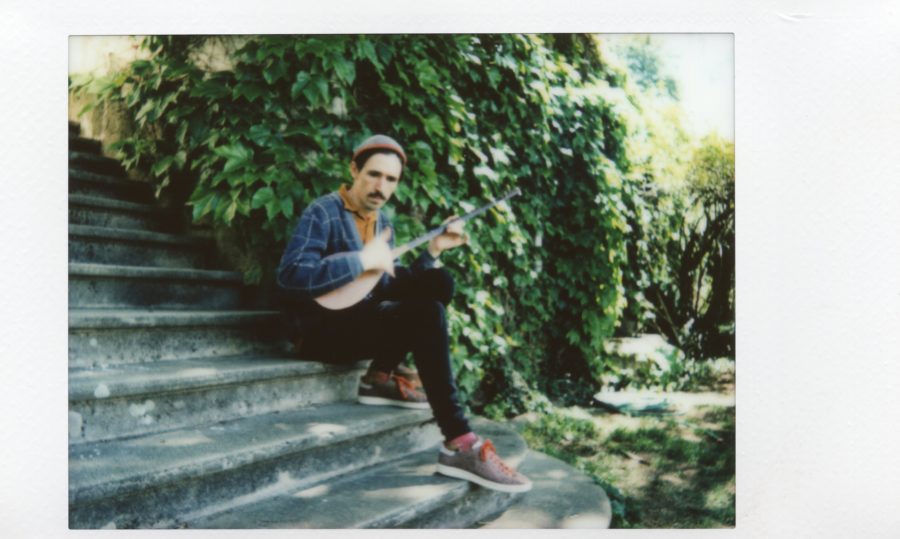 Occitania's finest
Sourdure invents the electronic grimoire of traditional music. Sourdure is Ernest Bergez. Active in several adventurous formations devoted to sonic experiments (Kaumwald, Tanz Mein Herz, Orgue Agnès), Ernest Bergez has been developing a hybrid and idiosyncratic form of live electronics for the past ten years. Always looking for the potential flaw in the reservoir of known sound forms, he has fashioned a radical approach to composition based on the logic of collage and detour; violent encounters, incongruous combinations, scale conflicts, asymmetry… Under the name of Sourdure, he attacks the immense wasteland of Auvergne's musical and oral traditions in order to build a composite, misshapen music, beyond the bangs, but strangely and solidly anchored in the present. He approaches this repertoire with a spirit of research, in what is similar to a total test: transformation of rhythmic patterns, drift of tonalities, declension of texts, mixtures of instrumentariums, but also revolution in his own ways of doing things. From the original tunes, Ernest Bergez extracts a panel of characteristics: cadence, accentuation, harmonic color, micro-patterns, ornaments, in order to decline new melodic turns. The song becomes an experimental object and the appropriation a form of writing. Biscornue sound fiction, song with polysemic potential, in French or in Occitan, each piece is an autonomous enclave, endowed with its own emotional microclimate.
With the creation in 2019 of the Sourdurent quartet, alongside Jacques Puech, Elisa Trébouville and Loup Uberto, he exercises his pen in Occitan, putting himself at the service of a music of intoxication and communion and assuming a tropism for the popular musics of the Middle East and the Mediterranean rim.
Sourdure brings together his aesthetic research and his poetic quest in Occitan on 'De Mòrt Viva', a conceptual record that takes the form of a divinatory system, to be released by Pagans, Les Disques du Festival Permanent and Murailles Music on April 2, 2021.
De Mòrt Viva' is constructed like an invented tarot deck and explores the idea of a contemporary paganism in ten jubilant, humorous and spiritual odes. The Occitan from Auvergne imposes itself on the spittoon, deploying its metaphorical and polysemic mesh, imbued with the particular candor of a newly acquired language. The melody is born from the word, the poem gives birth to the song, in a form which could remind from far and without erudition, the trobar, the art of the troubadours. In this album-game, each piece describes a possible situation, with its emotions and its typical stakes, its systems of often reversible forces and whose meaning escapes the Manichean thought. Drawing from the ageless figures of the Carnival, these ten arcane songs will perhaps bring to our consciences something to think about differently with regard to contemporary concerns.
Always hybrid and exploratory, Sourdure's music discovers here unexpected facets, embracing the art of the song, taking quasi-operatic turns. Exoskeleton or chemical revelator, the electronics camouflages itself in the asperities of the song as if to disturb its contours. Carried away by an armada of percussions and wind instruments, the voice naturally takes its strong place, whispering, savoring the language of oc like a macerated wine.
We hear : Laurent Boithias on hurdy-gurdy; Eloïse Decazes (Arlt) on vocals and concertina; Josiane Guillot on vocals; Wassim Halal on daf; Maud Herrera on vocals; Elisa Trébouville (Bourrasque, Sourdurent) on banjo and vocals; Amélie Pialoux (Ensemble Nulla Dies Sine Musica), cornetto, ancient trumpets; Jacques Puech (La Nòvia, Sourdurent) on cabrette.
Ernest Bergez (voix, violon, électronique, podorythmie)

Elisa Trebouville : banjo, fifres, voix, requinto
Wassim Halal : percussions (darbuka, daf)
Amélie Pialoux : cornet à bouquin, trompette baroque
David Fauroux : son