Nate Wooley, Jozef Dumoulin, Ingebrigt Håker Flaten, Teun Verbruggen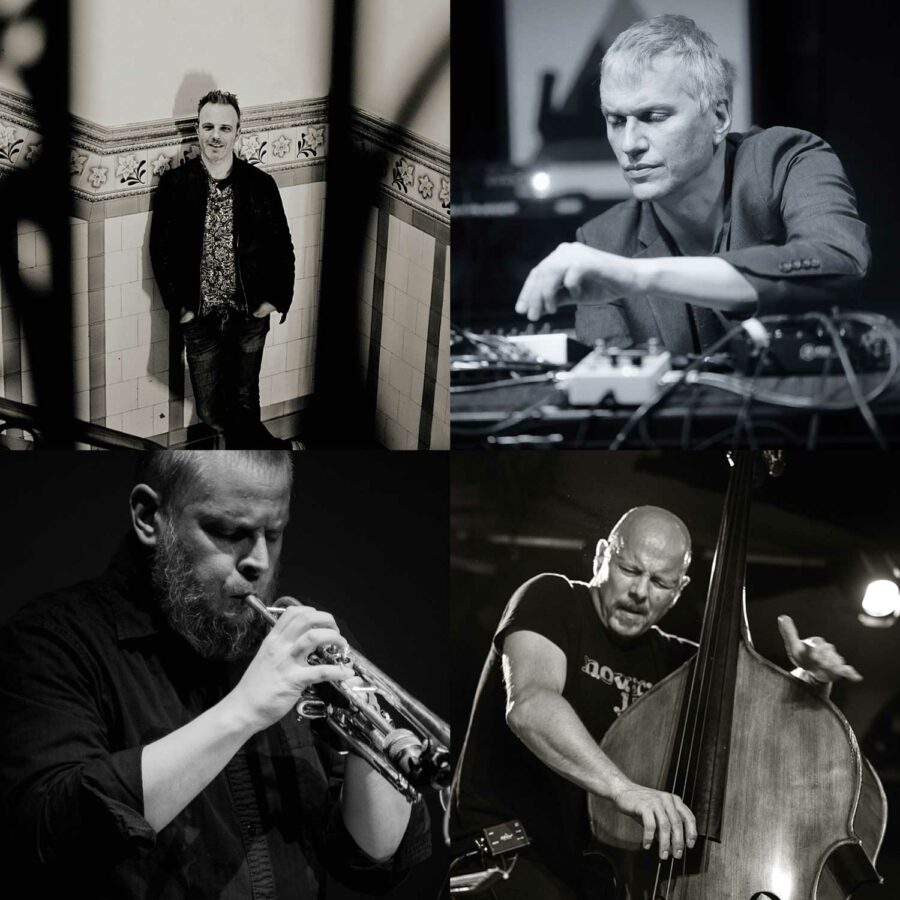 What do you need to know about this band? Perhaps that it has a certain history. All the musicians involved were, at one time or another, members of the Bureau of Atomic Tourism. This malleable transcontinental sextet was founded over a decade ago by Belgians Jozef Dumoulin and Teun Verbruggen and reached its artistic peak with its most recent album, Eden (2019). At the 2014 edition of the Middelheim Jazz Festival, where the band members played in different constellations, it also reduced to a quartet. His performance was released in 2018 as KaPSalon, a vinyl record accompanied by three engravings by painter Wannes Lecompte, and is finally receiving its successor, this time wrapped in artwork by Rinus Van de Velde.
The titles of the album and its two long tracks refer to Japanese mythology, which has perhaps infused the music (or vice versa?). In any case, Dumoulin's introduction to 'Izanagi', pounding the keys in the manner of Charlemagne Palestine, sets the tone for a two-part journey that at times hints at something grand and ritualistic, while retaining an open-ended approach that combines elements of minimal music with the kind of spontaneous invention these four musicians have become masters of.
Just listen to how "Izanagi" builds, with Wooley's astonishing palette shifting from dirty burrs to majestic calls, supported by the relentless rumble of a perfectly tuned rhythm section that maintains the balance between tension and release.
Turn the record over and 'Izanami' (named after the sister-wife of 'Izanagi') takes you into a different sound world, one of abstraction and disintegration. It's the electroacoustic counterpart, a stimulating start that asks listeners to plunge into a world full of industrial clatter, indefinable crackles and endless electronic manipulation, reminiscent perhaps a little of Warped Dreamer, the Belgians' project with Norwegians Stian Westerhus and Arve Henriksen. Or perhaps the unique world of Wooley's Seven Storey Mountain. But make no mistake, this particular adventure has a sound all its own, born of a shared and coherent well of ideas.
Improvised music can give you a thrill that no other music can, as long as it departs from the predictable, 'professional' version. Kami is exactly that, a bold, challenging and rewarding example of musicians pushing your boundaries (and their own!) with grit and imagination.
Blind IO
29.11.2022
Tortuga Alada + Ingebrigt Håker Flaten
28.09.2022
Blind IO
29.11.2022
Tortuga Alada + Ingebrigt Håker Flaten
28.09.2022