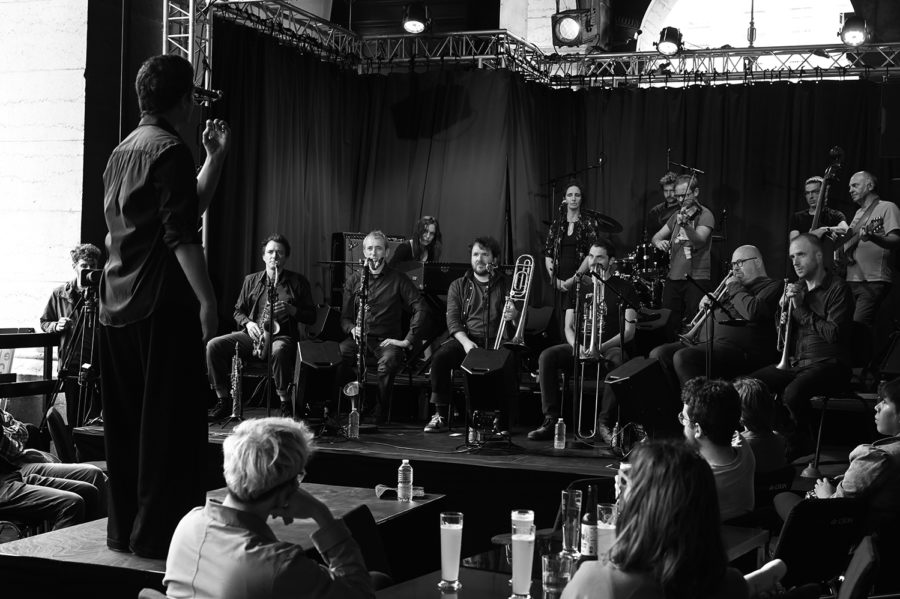 Collectif hors norme
Bringing together fifteen experienced improvisers from the Lyon region, L'Attracteur Etrange is a variable geometry ensemble formed in 2019. It plays with the multiplicity of the timbres and influences of its performers coming from great jazz, classical, contemporary music, rock and electronic formations of the region (Toubifri, Marthe, Grand Sbam, Arf, Possibles Quartet, Cie Imperial, ONL, Mourad Merzouki).
At the junction of freely improvised music, with a resolutely contemporary sound and jazz in attitude, it oscillates between noisiness and groove, offering textures of a rare richness and influences of music from around the world that make a universal heart beat. This taste for the strange, the exceptional, the surprise and of course the out of the ordinary, invites us with more and more curiosity, to marvel at the possibilities outside the framework.
We propose performances that go beyond the traditional concert to go beyond the stage by involving the public, an ephemeral partner orchestra, or to make unusual architectural spaces sound (the Musée de la Mine and the Musée d'Art Contemporain de Saint-Etienne are our future partners).
Henriette Eilersten Trio
25.11.2023
GRIO
27.04.2023
Trio Moondog
02.02.2023
Possible(s) Quartet & Sophia Domancich
18.11.2022
Attracteur Etrange
26.10.2022
Jessica Martin-Maresco (vocals)
Damien Sabatier (alto saxophone)
Camila Nebbia (tenor saxophone)
Florent Brique (trumpet)
Frédéric Roudet (trumpet)
Maurizio Chiavaro (drums)
Vincent Girard (bass, double bass)
Jean-Paul Hervé (guitar)
Stéphane Giner (violin)
Laurent Vichard (bass clarinet)
Lise Pechenart (cello)
Anne Quillier (keyboards)
Benjamin Nid (direction)
Henriette Eilersten Trio
25.11.2023
GRIO
27.04.2023
Trio Moondog
02.02.2023
Possible(s) Quartet & Sophia Domancich
18.11.2022
Attracteur Etrange
26.10.2022