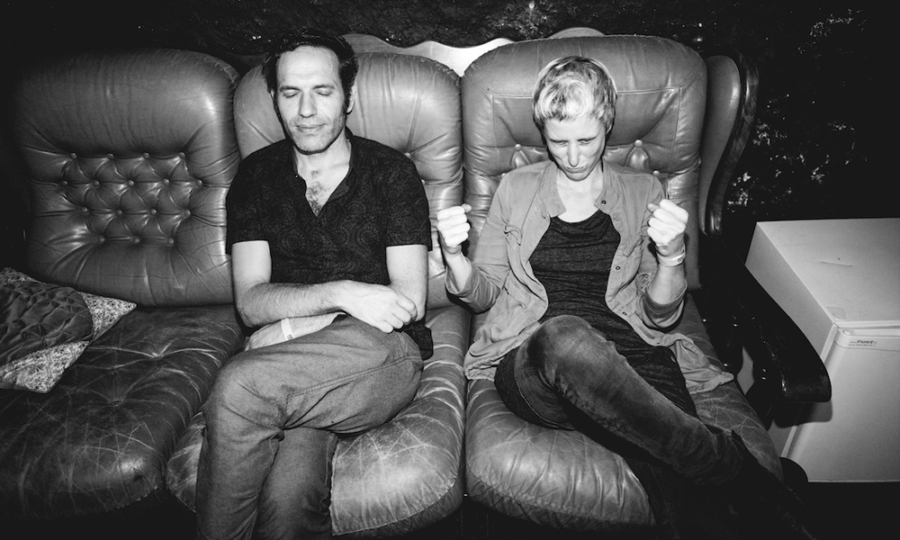 Cosmic dancing.
Behind Hyperculte are Simone Aubert (Massicot) and Vincent Bertholet (Orchestre Tout Puissant Marcel Duchamp). The first taps her drums with millimetre precision. The other tames her double bass and makes it sing in loops. Both open their mouths with repetitive and inspired litanies. The whole thing blends into a fireball trance, both meditative and full of energy.
Hyperculte touches with his fists the urgency and audacity of Liquid Liquid, Arthur Russell's research, the uninhibited ardour of Neu! and Can, Areski's barred pop and that something impalpable and incantatory from the depths of the soil of existence.
A two-headed wild animal masterfully tamed by Tobias Levin during a stormy session on the Hamburg docks in October 2015, Hyperculte will release its first album in the spring of 2016 on the Geneva label Bongo Joe.
In December 2013, Vincent Bertholet, founder of the Orchestre Tout Puissant Marcel Duchamp, invited with his solo project for the first part of the mythical The Ex, felt the need and desire for a complicity on stage. Three days before the concert, Simone Aubert, co-founder and guitarist of Massicot, brings her drums and charley to the venue. Then begins the meticulous assembly of a double bass and drums in the service of a pulsating and organic music.
Among the cymbals was an ingenious guitar that took the blows and scratches of drumsticks, the double bass notes rolled up on inventive loops and rose into bewitching layers of sound, while, rhythmically placed on the riffs, their voices distilled reflexive tracks and poetic stains. Hyperculte had just planted the first seeds of a constantly evolving sound, always in search of sounds, meaning and words. Anything that allows one to "climb higher" in the trance is good to take.
The two seasoned musicians embark on a process of subtraction: we take off to capture the heart of the journey, minimalism and repetition producing a sensitive vertigo. Hyperculte is also an opportunity for them to take the risk of singing and of the expression signified in a writing for two: place and time.
place of desire and fear where they throw themselves with shivers of pleasure. After two years of research, and a few concerts across Europe, the duo entered the studio in October 2015, at Hamburg's Electric Avenue Studio, and entrusted the recording to producer Tobias Levin, assisted by Hannes Platmeier.
Boris Dunand.
Vincent bertholet (contrebasse, voix, louper, effets)
Simone Aubert (batterie, voix, effets)