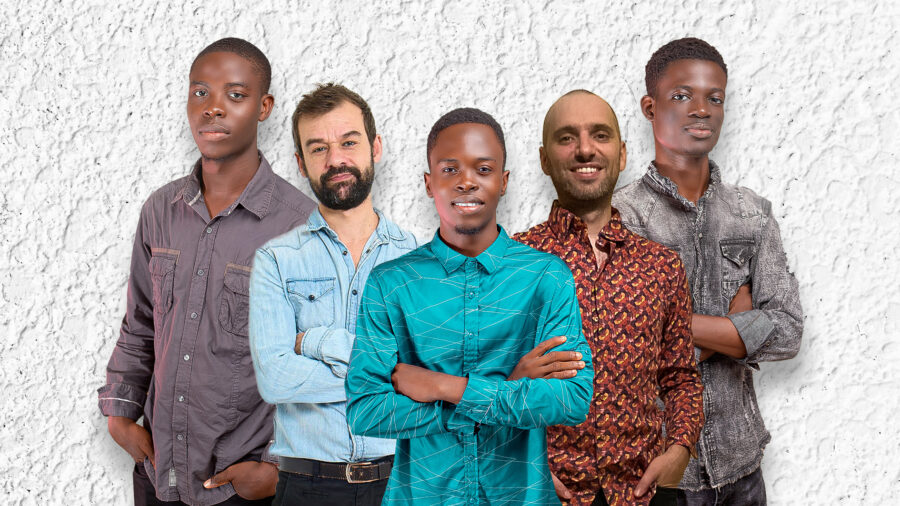 Zangbeto is a group initially made up of three young Togolese musicians aged between 20 and 25, formed in 2021 following an artistic residency with Togolese artist Peter Solo of the group Vaudou Game. Exceptionally talented and precocious, Joachim Amouzou on piano, Honoré Dafo on bass and Henoch Fafadji on drums deserve to be better known in France. The term 'Zangbeto' literally means 'night hunter'. This is a society of masks found among the peoples of the south of the Republic of Benin.
Their mission is to watch over the town and the community, and to chase away evil spirits at night. After accompanying singer Sabine Kouli at the 8th edition of Togoville Jazz, these three enthusiasts of jazz and the authentic rhythms and melodies of West African traditions were given the opportunity to take part in the JazzUp programme run by the Académie Jazz à Vienne in France in 2022 and 2023. This album project was born of a meeting between these three extraordinary young Togolese musicians and French trumpeter Félicien Bouchot (Bigre!, Keystone Big band), who was visiting Togo for the Lomé Jazz Festival.
Taking advantage of the trio's visit to France in 2023, the trumpeter invited guitarist Romain Baret to join them for a week of intense work as a quintet, which enabled them to put together a highly original repertoire, mixing jazz open to many influences with the traditional rhythms and songs of Togo.
Joachim Amouzou (piano) Honoré Dafo (bass) Henoch Fafadji (drums) Félicien Bouchot (trumpet) Romain Baret (guitar)