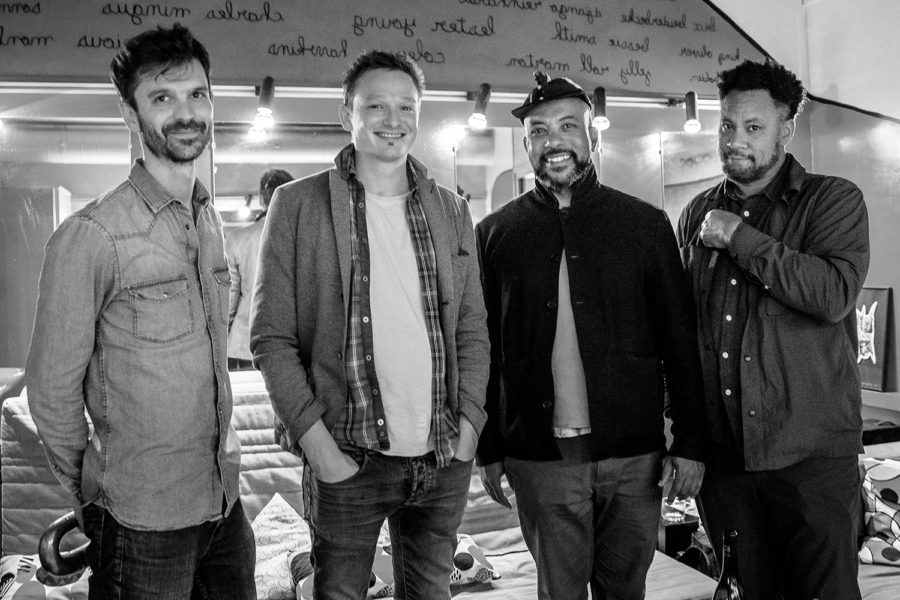 Beyond music
Think Big is an unprecedent quartet which has the air of a libertarian manifesto. A ground of experimentation furiously alive. Double bass player T. Cellier and saxophonist R. Quenehen got to know each other for 18 years within the collective of artists "Les Vibrants Défricheurs" and the band "Papanosh".
Along with them, Mike Reed, drummer and composer, hyper-activist on the Chicago's scene and member of the AACM plus Ben Lamar Gay, his long-time partner, trumpetist and multi-instrumentalist coming from the same galaxy.
Think Big will be a perpetual musical de-liberation exploring two collective ways of playing.
The music is thought as a patchwork of musical pictures, a post-modern and contemporary look at jazz story – as an emancipatory artistic language. Compositions will be brought by the four musicians and improvisation will be the joyful link between those pieces.
The scene is considered as a playground, a place to let the audience being a witness and an actor of what creation is.
THE BRIDGE + NUITS
07.07.2021
Raphaël Quenehen :saxophones
Ben LaMar Gay : trompettes
Thibault Cellier : contrebasse
Mike Reed : batterie
THE BRIDGE + NUITS
07.07.2021