Nina Garcia & Maria Bertel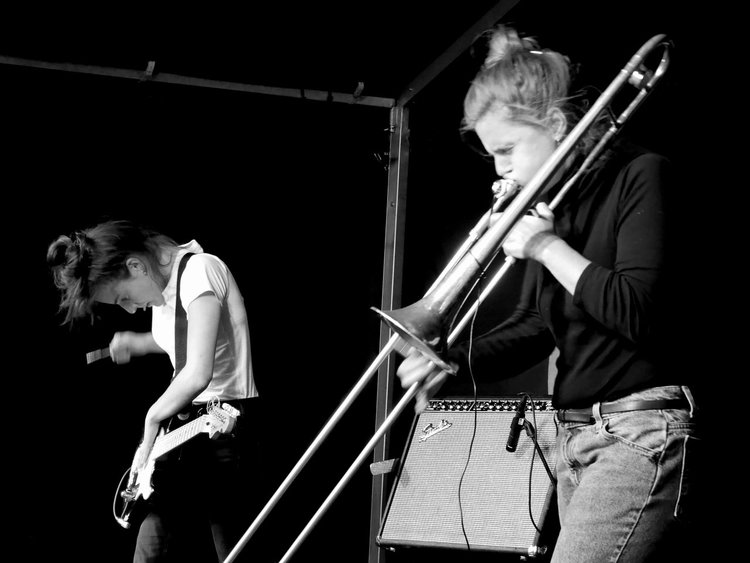 Black noise.
Improvisation duo formed by the Danish trombonist Maria Bertel (Selvhenter, Ymers Pizza) and the French guitarist Nina Garcia (Mariachi, mamiedaragon). Two instruments hijacked and pushed to their extremes: electricity, wood, copper, metal, scrap metal, blow. Noise and in passing some harmonies, according to the ratio tension / detention / extension.
Duo created in 2016 for and by the Sonic Protest festival and played at Instants Chavirés, Cave 12 (Geneva), All Ears (Oslo), Copenhagen Jazz Festival, Stilverk 1 (Trondheim), Festival Météo, Oor (Zurich), etc.
"For some time now, the Parisian and outlying passages of Danish singer Maria Bertel have been redrawing the brassy contours of noise. Widely defended by the Sonic Protest festival, she had been discovered with the mastodons Selvhenter, then solo and finally with Mariachi, for the creation of the duo at the 2016 edition of the festival.
Parallel sprint: for some time now, the Parisian guitarist Mariachi (mamiedaragon, Qonicho B…), has been scouring the local and extra-local stages for a refurbishment of the electric house… techniques and labour included. 
Nervous gestures, thunderous outbursts, responsive improvisation, all of this with an incisive and attacking first impression… Not to be missed. Really."
(Instants Chavirés, 2017)
Maria Bertel (trombone)
Nina Garcia (guitare)