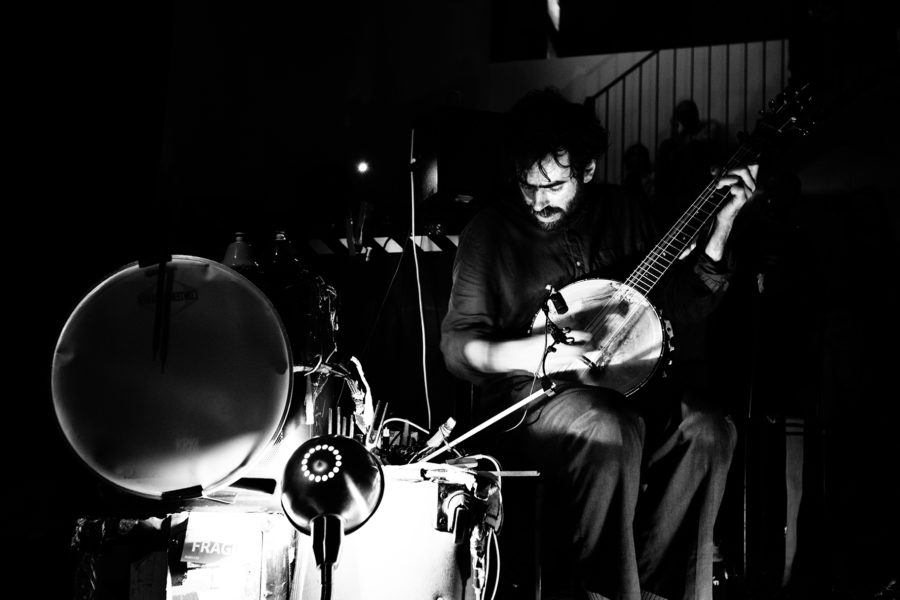 It is a ritornello that awakens, unfolds, absents itself, resurfaces, transforms itself, forgets itself, awakens again.
A ritornello all in folds and hollows, which gives to see as much as to listen, a theater of acoustic shadows where each timbre, each rhythm, each modulation, is born from a meticulously refined gesture.
"I don't write the music, it's an assemblage of gesture memories."

Thomas Bonvalet
Gestures at the same time very learned and very simple, which refuse sovereignly the categories of the modern and the archaic, the natural and the cultural. They summon rather a whole intimate and collective genealogy, musical and technical, the memory of a thousand musics and a thousand times. There is no way, indeed, no more way in this defeated world.
On the other hand, there are these gestures that allow us to search for the human measure, that give the possibility of a new attention to the bodies, to the objects, to the space, gestures that invent other relations between them and other ways of being alive, gestures to be worked on and shared without ceasing. "It's fragile, it can always fall apart. I have to fight, to stay tuned to what is at stake in a piece, to breathe in what will make it stand up."
And the ritornello continues its mutations in the folds and hollows of our own memories.
---
About him
Initiated in 2005, "L'Ocelle Mare", the solo project of multi-instrumentalist Thomas Bonvalet, has been in constant evolution and transformation. "Sans Chemin", the sixth album under this name, recorded over two years, is more of a journey than a state, sometimes declining the successive stages of the same form. Thomas Bonvalet acts on an instrumental device in real time, which is organized in sound planes (amplified and non-amplified, close and distant), in a game of interactions and feedbacks. The body (and its movements) is at the heart of this system. The amplification is multiple and of variable size, moving (interruptions, manipulations, displacements), spatialized and sometimes timbred by the contact of tambourines or membranes on the loudspeakers.
L'Ocelle Mare+ Ben Bertrand
25.03.2022
Thomas Bonvalet : electric guitar, six-string bass banjo, body percussion, Casio keyboard, cell phone, digital and mechanical metronomes, wave generator, switches, noise gate, painter's tape, tambourines and membranes, microphones and amplifiers.

L'Ocelle Mare+ Ben Bertrand
25.03.2022