Trio Agnel, Vatcher & Lanz
France, Germany, Netherlands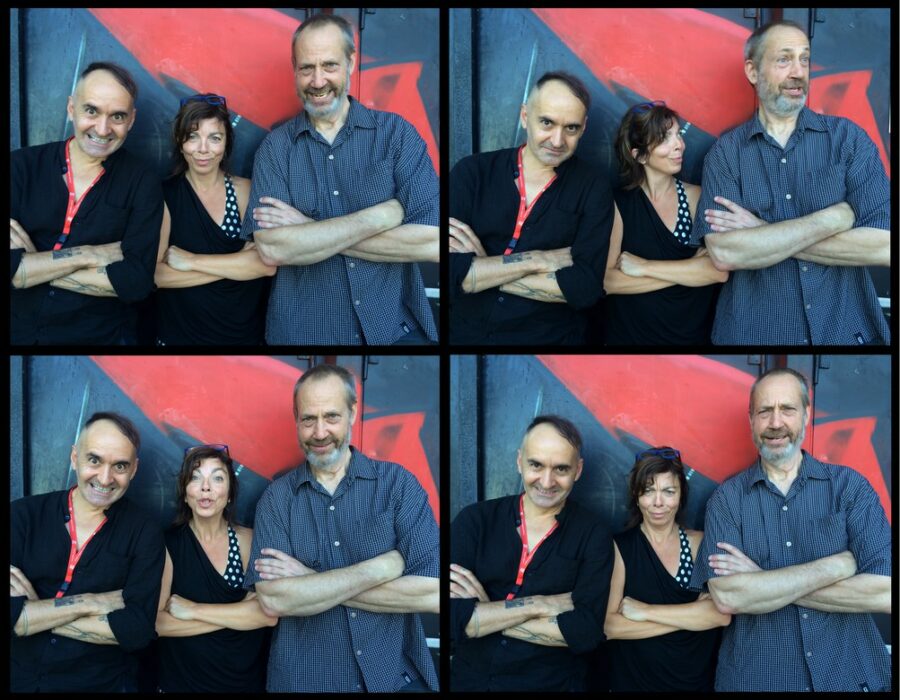 Improvised chaos
The trio of French pianist Sophie Agnel, Swiss turntable player Joke Lanz and American drummer Michael Vatcher, who lives in Amsterdam, captivates with its precision, intensity and spontaneity. The rhythms often change as quickly and unexpectedly as the volumes, and when it comes to playing the role of impulse, the three often take turns just as quickly.
Although this trio constellation seems unusual, the product is fascinating! Extraordinary playing techniques, curiosity and exploration of the sonic possibilities of their instruments, as well as surprising turns in the dramaturgy create a constant tension.
With a solid classical training and after a period of close interest in modern jazz, Sophie Agnel, at the turn of the 90s, gradually moved into the shifting and deliciously uncertain terrain of free improvisation, fascinated by the expressive power of some of the great heretics of the keyboard such as Keith Tippett, Fred Van Hove or Christine Wodrascka.
Reworking the techniques of prepared piano imagined by John Cage in the field of contemporary music through the prism of improvised music, Sophie Agnel will then apply herself to "introducing the prosaic nature of the contemporary world into the very belly of Western musical refinement" and transform her instrument into a sort of "extensive prep-piano" or "extended piano", thus laying the foundations of a radically materialistic personal universe, which is by turns lyrical, abstract and sensualist.
Moving from the demanding exercise of the solo to multiple encounters in situ with the greatest masters of contemporary improvisation (Michel Doneda, Daunik Lazro, Olivier Benoît, Catherine Jauniaux, ErikM, Roger Turner, Phil Minton, John Butcher, Jean-François Pauvros, Thurston Moore), the pianist will also gradually venture into these border zones where genres become blurred.
In 2014, she joined the Orchestre National de Jazz (ONJ) under the direction of Olivier Benoît for four years.
https://www.sophieagnel.com/
Joke Lanz was born in 1965 in Basel and now lives in Berlin. He is a pioneer of the independent electronic scene, a jack-of-all-trades who moves from improvised music to experimental music, from noise to turntablism, from performance to concrete music. In addition to his music for film and theatre, his radio work, installations and objects, there are two constants in his work: on the one hand, his turntablist work where he mixes turntables and vinyl records and, on the other hand, his action project "Sudden Infant", which in 2014, after having been a solo project for 25 years, became a trio project.
http://www.suddeninfant.com/
Michael Vatcher, an American from California, lives and works in Amsterdam. In the United States, he has played extensively with the blower Michael Moore.
Since his arrival in Holland, Michael Vatcher has performed with groups and musicians such as the Tristan Honsinger Sextet, the Martin Altena Ensemble, John Zorn, The Ex, Roof (with Phil Minton, Tom Cora and Luc Ex) and Van Dyke Parks.
He works regularly for the School for New Dance Development in Amsterdam with dancers such as Katie Duck and Eileen Standley.
TRIO AGNEL, VATCHER & LANZ
28.02.2023
THE BRIDGE + NUITS
07.07.2021
Sophie Agnel (piano) Joke Lanz (turntables) Michael Vatcher (drums)

TRIO AGNEL, VATCHER & LANZ
28.02.2023
THE BRIDGE + NUITS
07.07.2021