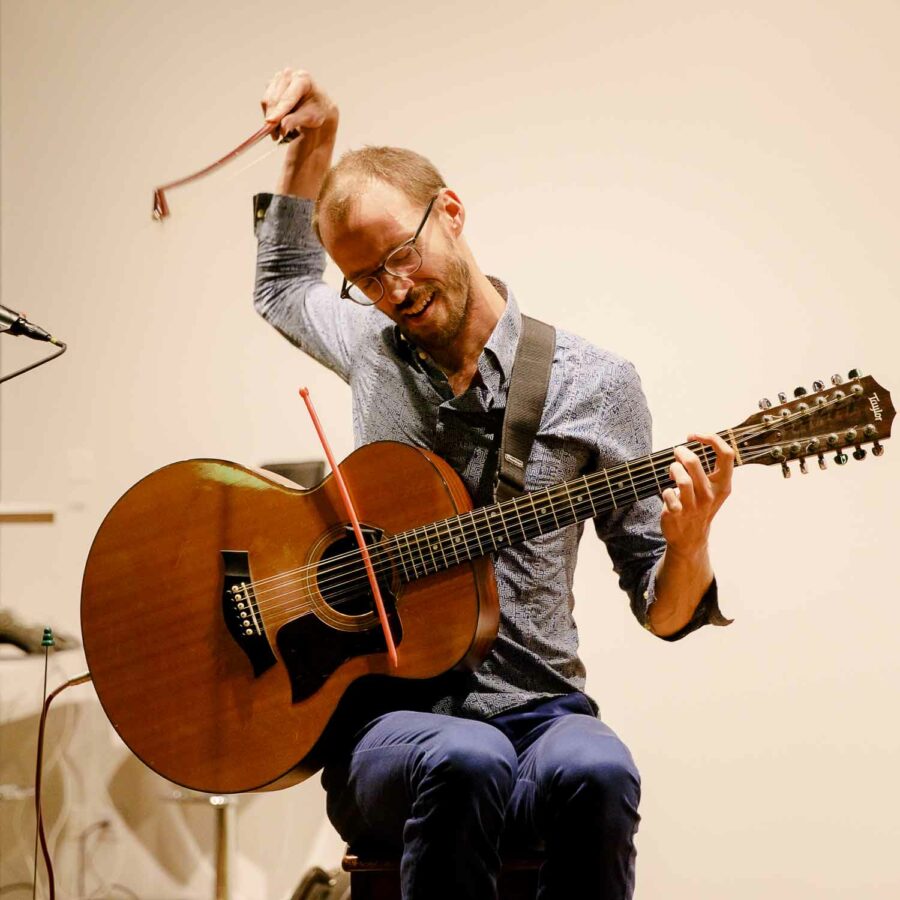 Musical overlay
Guitarist, Gamelan musician, composer and improviser, he graduated in 2007 from the ENM Villeurbanne in jazz guitar. It was later that he discovered the music of Indonesia, first through the Kecak, then through the different Gamelans, their techniques and their repertoires: Gamelan of Central Java, Gong Kebyar, Selunding.
His musical research and his thirst for encounters led him to short stays in New York, Oslo, and then for a longer period in Berlin, where he imagined a 12-string guitar solo that would be called So-lo-lo. The guitar, prepared and amplified, becomes the percussive instrument of a polyrhythmic music.
Now based in Tours (37), Thibault Florent is a member of Capsul Collectif. This collective of musicians takes an innovative and demanding look at contemporary and improvised music, while putting the question of audiences at the heart of its approach. It is also in Tours that he co-founded Mange Ferraille with Etienne Ziemniak (Electric Vocuhila) and Anthony Fleury (Fordamage).
He is also the guitarist of the tentet pAn-G, directed by Aloïs Benoit. In 2020 he joined the ensemble Nist-Nah, directed by Will Guthrie, which spreads throughout Europe a creative and innovative look at the practice of Gamelan and its mixture with contemporary percussion.