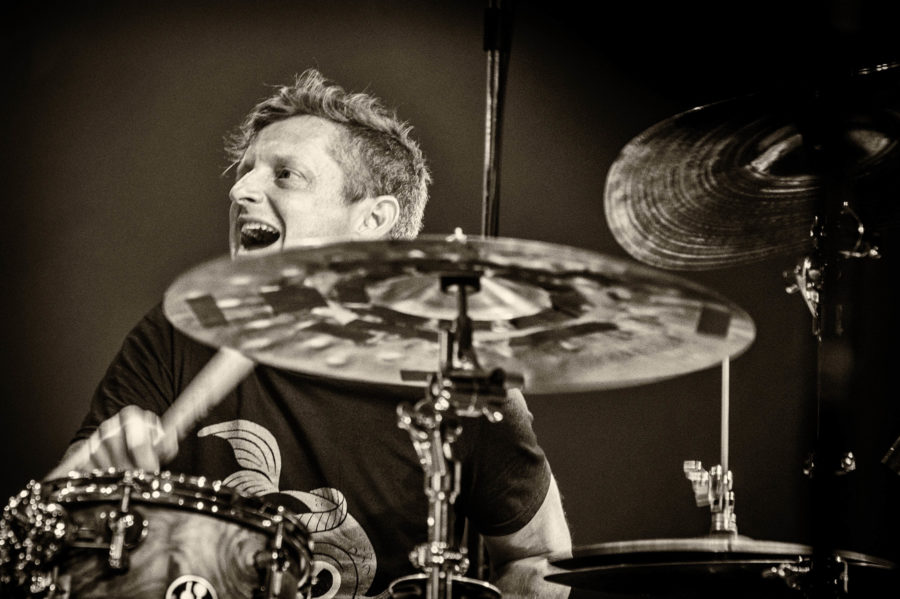 Jim Black is at the forefront of a new generation of musicians bringing jazz into the 21st century. In addition to being one of the most influential drummers of our time, he is also the leader of one of the world's most forward-thinking bands, AlasNoAxis, featuring his longtime collaborators Chris Speed, Hilmar Jensson and Skúli Sverrisson. Based on the foundation of his virtuosic but highly personal approach to jazz drumming, Black's aesthetic has expanded to include Balkan rhythms, rock songcraft and laptop soundscapes. Though he is revered worldwide for his limitless technique and futuristic concepts, what many listeners treasure in most Jim Black's work is the relentless feeling of joy and invention he brings to his performances. Jim Black's smiling, kinetic, unpredictable presence has enthralled and inspired audiences worldwide for over twenty-five years.
Since the mid-90's, Black has played a major role in the incorporation of new sounds and techniques into the jazz/creative music context. As a member of the collective group Pachora (with Speed, Sverrisson, and guitarist Brad Shepik) Black was one of the leaders in the study and adaptation of Balkan music into jazz-based music. His advanced techniques abstracted the odd time signatures of the Balkans into a new polyrhythmic language equally informed by modern jazz, drum&bass and the dumbeks of the Balkans. Black has also been an innovator in the use of electronics in improvisation, bridging the gap between electro-acoustic improv and more jazz-based traditions. Today, Black's performances are just as likely to feature his laptop-based electronic textures as his drumming.
Born in 1967, Jim Black grew up in Seattle alongside future colleagues Chris Speed, Andrew D'Angelo and Cuong Vu. After cementing their personal and artistic relationships in Seattle's various youth jazz ensembles, in 1985 they moved to Boston, where Black entered the Berklee School of Music. In Boston, Black, Speed and D'Angelo formed Human Feel with guitarist Kurt Rosenwinkel, which rapidly attracted the attention of the jazz cognoscenti in Boston, New York and beyond.
By 1991, Black and the other members of Human Feel had moved to New York City, where they electrified the Downtown music scene then centered around the Knitting Factory and rapidly became among the city's busiest sidemen. Black's early years in New York saw him take featured roles in some of the most critically acclaimed bands of the time, like Tim Berne's Bloodcount, Ellery Eskelin's trio, and Dave Douglas's Tiny Bell Trio. Thus began fifteen years of near-constant touring and recording, with the above bands as well as artists like Uri Caine, Dave Liebman, Nels Cline, Steve Coleman, Tomasz Stanko, and Laurie Anderson.