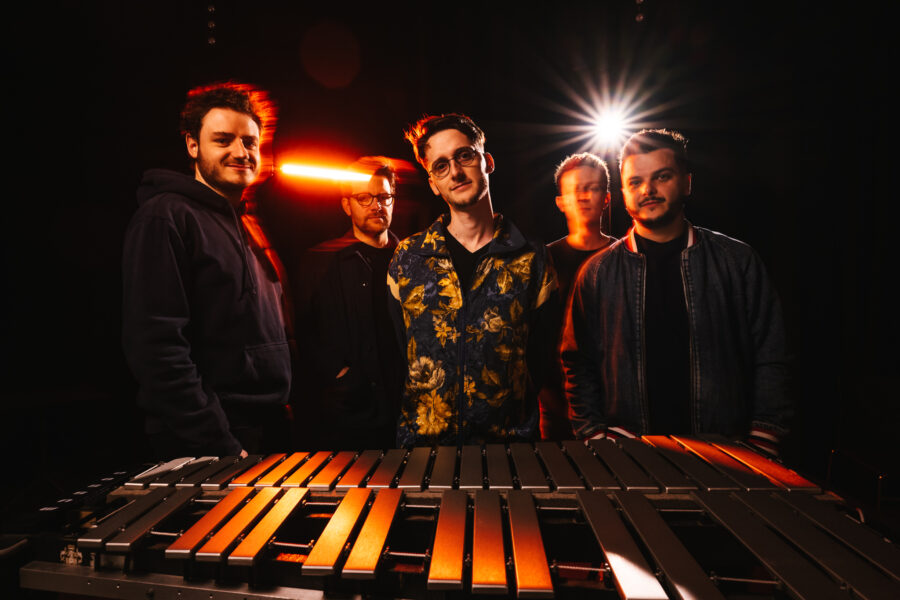 facing emotions
Félix Joubert becomes GIACOMO. An alchemy of ethereal melodies and cyclical, reassuring rhythms. rhythm. In quintet form, GIACOMO's music is warm and poetic. As a vibraphonist, Félix keeps his instrument as the cornerstone of his compositions. The notion of loop and repetition is central to his music. Inspired by nature, it is this sensitivity to the ever-changing cycle that informs his universe. With two virtuoso blowers, a rhythm section that's both organic and surgical, and a colourful vibraphone, this quintet subtly transcribes GIACOMO's universe.
Jazz as the centre of gravity

The project was born in 2019. GIACOMO is above all a desire to express itself through simple, colourful, imaginative music. The influences are very varied, thanks to the composer's background. Félix Joubert studied piano, then classical percussion. At the same time, he learnt jazz with his uncle, a great variety musician, and his brother, who studied jazz at the conservatoire. His teenage years were marked by the hip-hop of J-dilla, the hybrid jazz of Robert Glasper and the electro of the Ninja Tune label. It was later that he completed his training with Franck Tortiller, where specialising in vibraphone was a real revelation for composition. GIACOMO is a guided meditation, an invitation to travel.
FOEHN Release party ELEMENTS • live A/V with Malo Lacroix
17.12.2022
Félix Giacomo Joubert ( Vibraphone, composition)
Kévin Borque (Batterie)
Léo Aoun (Basse)
Rémi flambard (Trompette, Bugle)
Greg Sallet (Sax Alto, Soprano)
FOEHN Release party ELEMENTS • live A/V with Malo Lacroix
17.12.2022