Listen

| Happy Hour radio show invites the artists to share their thoughts with the audience just before their show.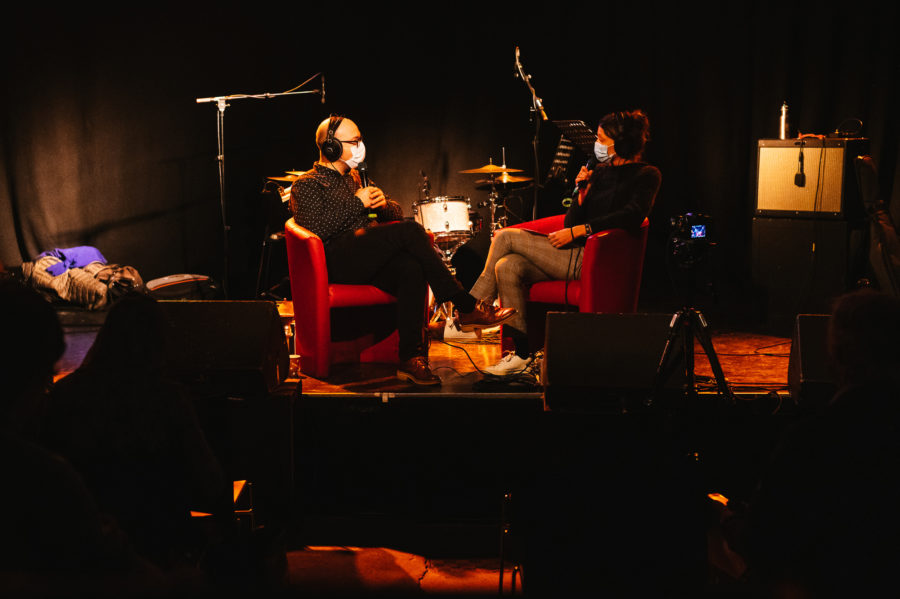 ©Paul Bourdrel
Live music from home .
Périscope radio presents "Happy Hour", a live radio broadcast from Périscope with the musicians who bring jazz and improvised music to life to discuss their projects, their artistic career and their relationship with the stage.
---
Samuel Blaser
Happy Hour invited trombonist Samuel Blaser and his trio with guitarist Marc Ducret and drummer Peter Bruun on 3 October 2020.
"Happy Hour, a new rendezvous of exhilarating and innovative music live from the Périscope. We are installed there on the stage just before the concert of the Samuel Blaser Trio, a trio of virtuosos in which we find Marc Ducret on guitar, Peter Bruun on percussions and as for the Samuel Blaser in question he is there with us, he carries the trombone, he also carries some compositions… Good evening Samuel ".
---
Pierre-Antoine Badaroux & Jean-Luc Guionnet
Happy Hour invited on 14th October 2020 the transatlantic project The Bridge with the musicians Pierre-Antoine Badaroux and Jean-Luc Guionnet.
"Good evening everyone, you have chosen to listen to Happy Hour rather than Emmanuel Macron's speech, it's a brilliant idea! We are live from the Periscope stage, and here in a few minutes on this same stage you will be able to listen to The Bridge loud and furious! The Bridge is a transatlantic network which has been linking French and American improvising musicians since 2013.
The Bridge is thus more than ten bands who tour / were touring / we'll talk about it, in France and in the United States, especially in Chicago. And when I say we're going to talk about it, it's here now, with the main people involved Alexandre Pierrepont, creator of The Bridge, good evening Alexandre.
And also with the two French improvising musicians of the evening, two saxophonists Pierre-Antoine Badaroux and Jean-Luc Guionnet. Good evening!"
---
Next coming soon… A bit of patience!