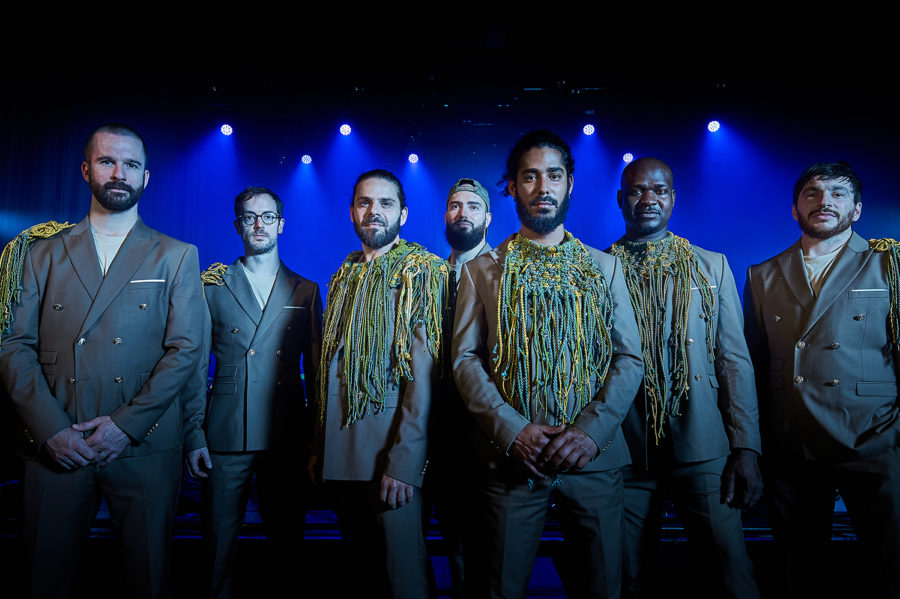 Please don't stop the music.
Superlative child of the French cultural mix, the Afrofunk of SUPERGOMBO is probably also descended from the Tout Puissant Orchestre Poly-Rythmo and the Headhunters. Nourished by Senegalese Mbalax, Congolese soukous, US funk and world jazz, the sound that is played here is necessarily from elsewhere. However, we won't talk about "world music" with them.
Of the world, SUPERGOMBO rather keeps the rhythm, frenetic and uncontrolled. Even if this group of 7 musicians knows that sometimes you have to brake, stroll, take your time. SUPERGOMBO is thus quietly doing its supermarket from Bamako to Ouaga, with an obligatory detour to La Guillotière, a district of Lyon known for its mix. Supergombo's double objective is to make everyone travel and get the crowds dancing. Etienne Kermarc's trip began with the sounds of West Africa, the sounds his father brought back from his years in Africa and which the bassist was keen to confront with his own jazz culture. His fellow travellers – Aurélien Joly and Nacim Brahimi for the souffles, Romain Nassini and Riad Klai for the harmonies, the Reunionese David Doris and the Burkinabe Wendlavim Zabsonré behind the drums and other percussion – each bring their own contribution to the writing or arrangement of ideas and sounds. For the production, the label Z Production entrusts the task to Vincent Taurelle, Etienne Meunier and Benoît Bel. From bikutsi rhythms (Faraphonium) to mandingo scales (Nâ Kuima), between fiery grooves and iridescent colours, Supergombo orchestrates an African suite that has an unashamed eye to the West and East, to the West Indies and the Far East! Without a doubt, this music knows how to surprise. But above all, it's about settling down and settling in. In the head, in order to better win the whole body. So it's not surprising that Supergombo thrives on untiring repetition and is sometimes on first-name terms with electronic trance music. But at no time does this music forget its roots.
Nor the intoxication of the storytellers.
Aurélien Joly (trompette)
Jérome Bartolomé (saxophone)
Francis Larue (guitare)
Romain Nassini (claviers)
Wendlavim Zabsonré (batterie)
Etienne Kermarc (basse)
David Doris (percussions)