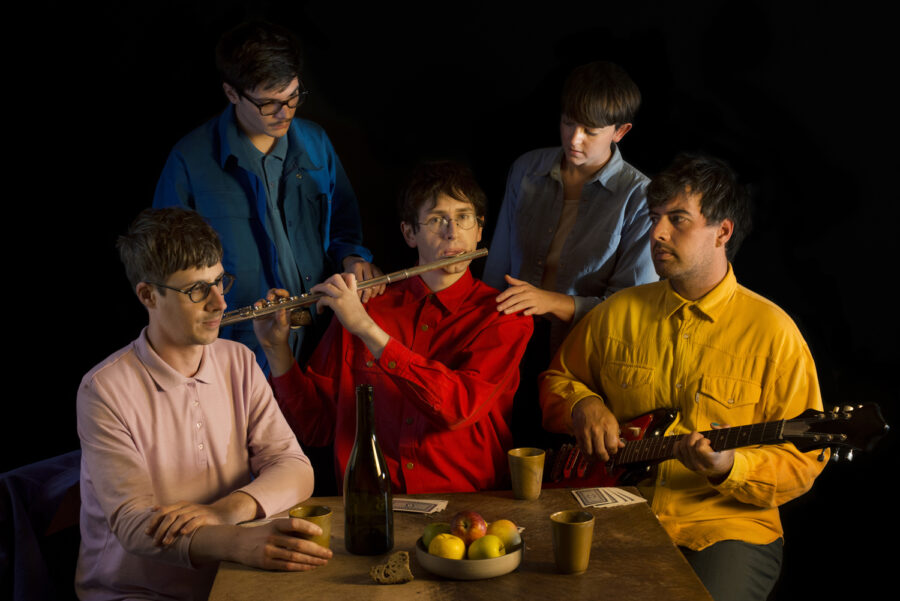 Brest, 2011. Rémi Richarme records his first record by piling up random tracks on a computer. Convoluted pop compositions evoke his heroes Kevin Ayers, Pink Floyd, or David Bowie, in a Shoegaze cloud. His friends from the school of sound engineers help him to set up the first formula of SATELLITE JOCKEY which becomes a collective adventure. The group discovers the concerts, the life on the road and the pleasures of a creative life which will become more and more intense with the wire of the records and the concerts.
Lyon, 2017 after a few albums, the group is joined by the keyboardist-singer Pauline Le Caignec (aka KCIDY) and the most delicious drummer from Lyon (aka Florian Adrien), to form an original sextet. An abundant pop orchestra where violin and trumpet mingle with rock instruments. This formation rich in timbres is honored on the Modern Life trilogy, in which Rémi pays tribute to the 60s, to the baroque pop of the Zombies, and to the psychedelic rock of the Beatles. Three elegant and referenced records, much appreciated by many fans of the genre, and which will lead the band to open for Damon Albarn's project "The Good, The Bad & The Queen".
November 2020. Satellite Jockey releases his new album, Le Week-End. New stylistic evolution but coherent and in French for the first time. The band becomes quintet and adult, abandoning acoustic instruments to focus on synthesizers and electric guitars. Satellite Jockey has never worn its name so well. Remi pushes his writing beyond the 60's, affirming a modern and more synthetic pop. The colors of Californian soft rock mix with the hope of a nostalgic and futuristic 80's pop in a surreal and poetic French. "Le Week-End" is a shimmering new chapter in Satellite Jockey's discography, positioning them as one of the most exciting pop bands of the moment.
POP CLUB : Satellite Jockey + Alex Kacimi + Trumpets of Consciousness
03.12.2022
Rémi Richarme (bass, guitar, flute, vocals)
Pauline Le Caignec (organ, piano, Fender Rhodes, vocals)
Antoine Nouel (guitar)
Clément Sbaffe (guitar, violin, vocals)
Florian Adrien (drums, percussions)
POP CLUB : Satellite Jockey + Alex Kacimi + Trumpets of Consciousness
03.12.2022