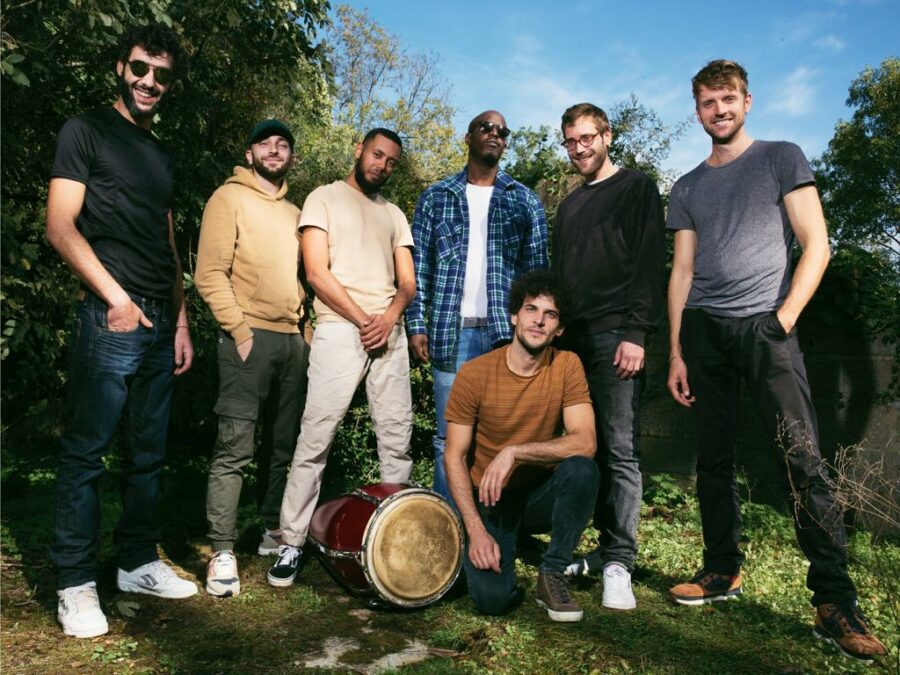 Saroyé is the name of the chilli candy that's going to set fire to the mouths wide open for a new trans-oceanic feast. It's also the name of a hurricane that will leave dancing masses drenched in sweat and panting with pleasure. Finally, it's the name of an expedition that goes even further than the boundaries of the black meta-continent… A pioneering expedition breaking new ground, for the unlimited glory of the holy Afro-Atlantic musical empire!
Saroyé offers a new air link between La Réunion and Cuba, two eyes of the same cyclone for a new look at dance and trance. Taking advantage of multiple stopovers, the group travels towards a meeting of the third kind with the advent of its Creolised music. An exciting communion between two musical genres, maloya and rumba, mixed with highly flammable additives provided by seven musicians who give their hearts and bodies to their musical science. African tones (Madagascan saleg, Congolese rumba…) and South American influences are added to an already rich mix… And new turbulence makes the journey even more exciting!
Instigated by Luc Moindranzé Karioudja (Ti'Kaniki, An'Pagay, Parranda La Cruz…), the septet was born in the bubbling cauldron of the Lyon scene. This proud exponent of the new maloya scene carries the Creole language high, as his native tongue, but also as an art of living with cross-fertilisation. From his native Réunion, he draws on the incredible creativity of his innate blend of cultures to build a bridge to the Caribbean. In his world, there are just a few dance steps between the Indian Ocean and the Pacific…
The recipe is eternal, but for the magic to work, you need artists with sensibilities heightened by passions, encounters and discoveries as daily as they are exceptional… Musicians with big hearts who don't care about borders and embrace genres to make the sauce take and explode in your mouth. In the fiery wake of composer, percussionist and lead singer Luc Moindranzé Karioudja, we needed some strong heads, ready to take the shocks and feed the flame! In place of a good backing band, there's a great percussion section that's as eruptive as it is powerful. Nicolas Thé plays on drums and accessories, opening up the horizon a little more to percussionists Gaël Nekaa Champion, Ken Malaise and Théo Pagès, who push the rhythmic possibilities of maloya and rumba instruments to the limit… Textures, materials and vibrations shaped by African heritage, central to their mix! These hypnotic tumultuous rhythms are complemented by patterns drawn by Luc Yengue Yengue's guitar and Hugo Reydet's baby bass, accentuating the trance-African touch and harmonising all these unusual flavours.
Luc Moindranzé Karioudja : roulèr, sati, congas, triangle, voix lead, voix chœur, compositions
Luc Yengue Yengue : guitare
Hugo Reydet : baby bass
Nicolas Thé : palito, cloche, voix cœur, sati, cymbale.
Gael Nekaa Champion : chikéré , kayamb , karkarb, voix chœur
Ken Malaise : Congas, triangle, voix chœur
Théo Pages : congas, pikèr, tarlon, voix chœur