Mats Gustafsson & Erwan Keravec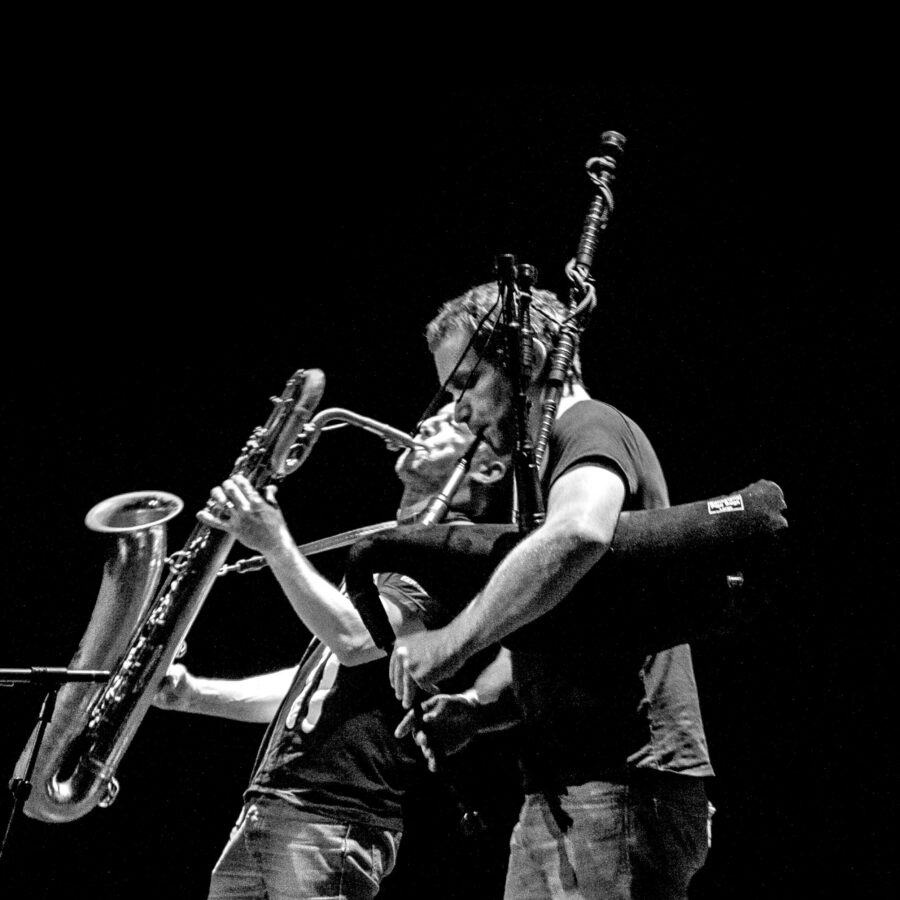 Mats Olof Gustafsson is born 1964 in Umeå, Northern Sweden. Saxplayer, improviser and composer. Solo artist and international tours and projects with a.o. Sonic Youth, Merzbow, Jim O´Rourke, Barry Guy, Otomo Yoshihide, Yoshimi, Ken Vandermark and in working groups The Thing, FIRE!, Gush, Boots Brown, Swedish Azz and Fake (the facts). Large ensemble work with Barry Guy New Orchestra, FIRE! Orchestra and the NU – ensemble. Over 1800 concerts and over 200 record productions in Europe, Australia, Africa, North & South America and Asia. Collaborations with contemporary dance, theater, art, poetry as well as projects with noise, electronica, contemporary rock and free jazz. Discaholic – running the discaholic corner website. Producer of international festivals and concert tours as well as work with own record labels Slottet, OlofBright Editions and Blue Tower Records. 
Erwan Keravec is a Breton piper (Scottish bagpipes) whose eclectic path ranges from traditional to contemporary music and improvisation. This encompasses bagads (Breton bagpipe bands), the Niou Bardophones quartet, a traditional duo with his brother Guénolé Keravec, free improvisation with Jean-Luc Cappozzo, Beñat Achiary, Arfi, Camel Zékri, etc. He write and play music for modern dance companies (Boris Charmatz, Daniel Linehan, Emmanuelle Huynh, Gaëlle Bourges, Cécile Borne, Mickaël Phelippeau). He plays solo pieces, 'Nu-Piping' written for him by such composers as Philippe Leroux, Sébastien Béranger, Xavier Garcia, Zad Moultaka, Bernard Cavanna, François Rossé, Benjamin de la Fuente and Susumu Yoshida. For such commissions, he is associate artist with the Centre de Création Musicale at Théâtre de Cornouaille in Quimper, Brittany. Lastly, in 'Urban Pipes' Erwan presents his work as a composer and an improviser, both in solo and in duos –with Beñat Achiary, Guénolé Keravec, Alain Mahé.
Mats Olof Gustafsson (saxophones)

Erwan Keravec (Bagpipes, trumpet with a pipe reed)