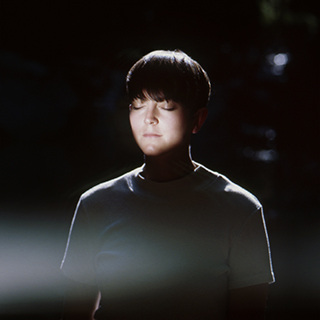 Pauline Le Caignec a.k.a. KCIDY is full of paradoxes: born under the sign of the in-between, third of five siblings, between the city and the countryside, the Rhône Alpes region and Brittany, Pauline is crossed by apparently contradictory desires but has always refused to choose and this is what makes the richness and complexity of her career. With a classical/jazz piano background, she started writing pop songs alone in her room on Live Ableton and it's within the DIY indie scene in Lyon that her all-round side was able to blossom, between sound and image: a multi-instrumentalist, she composes for video, plays for the theatre, makes music videos, alternates between collective and solo projects.
In Lyon, she joined the band Satellite Jockey and the AB Records label, on which she released two E.P.'s and a first album, Lost In Space, under the name KCIDY. At the same time, she composed and played drums in Tôle Froide, a synth-punk band that quickly gained a cult following among fans of the genre.
KCIDY's second album was released on the Vietnam label in spring 2021. A succession of pop songs where melancholy is still present in the background but where the lyrics, this time entirely in French, are now more open to the world.
We can feel the influence of nature and the Loire countryside* that surrounds him from now on, and this permanent tension between the future and the memory, the collective and the intimate, the happy and disappointed friendships. A sound that is always instinctive, radically personal and free of any conscious influence, deeply sincere and free, just like the musician herself.
All this is only the beginning because a new album is being prepared for 2023.
Unpredictable, unclassifiable, only one thing is sure, Pauline will not be where you expect her to be.
*Ligerian is the adjective relating to the Loire department, you can remove it if you want.
KCIDY + Raoul Vignal
15.02.2023
KCIDY + Raoul Vignal
15.02.2023