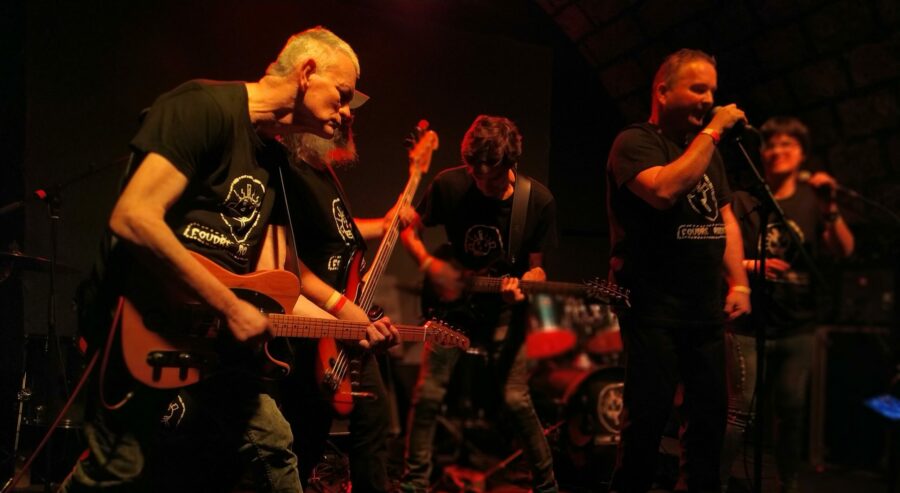 Vu D'un Oeuf, a rural artistic center based in the Meuse, proposed to Arnaud Marcaille to realize the dream of a disabled person: to invent together a band and a music. Because the adventure of Foudre Rockeur is first of all the desire of a resident of the Adapei (Departmental Association of friends and parents of maladjusted children of the Meuse), Christophe Leroy who had been practicing drums in his garage for years.
For Vu D'un Oeuf it was also the will to develop a companionship with an atypical and important musician of the Rock scene. Arnaud Marcaille seems to have several arms: he played improvised music, avant rock, composed for the theater, played thrash metal and scoured the street theater festivals (Kraal, Violon Profond, Trash and Tradition, Amour, Rraouhhh!…). Figure of the deviant Rock, from Palermo to Liverpool through Helsinki, Mr Marcaille enjoys an international aura, his compositions are tinged with excess and bits of the worlds Metal Blues and Thrash Punk.
Among the residents some were playing or had started playing music (drums, guitar) but most started on an instrument they discovered. With a lot of rehearsals to find a sound, a cohesion and also to constitute a repertoire oscillating between shocking covers and original compositions: Les Foudre Rockeur were born!
Foudre Rockeur (Feat. Mr Marcaille) + Bronzy Mc Dada
13.04.2023
Eric Delavaranne (Chant)
Laurent Herbelet (Batterie)
Arnaud Marcaille (Basse)
Laura Martin (Chant)
William Philippe (Guitare)
Justin Talarico (chant)
Benoît Vermande (Guitare)
Foudre Rockeur (Feat. Mr Marcaille) + Bronzy Mc Dada
13.04.2023