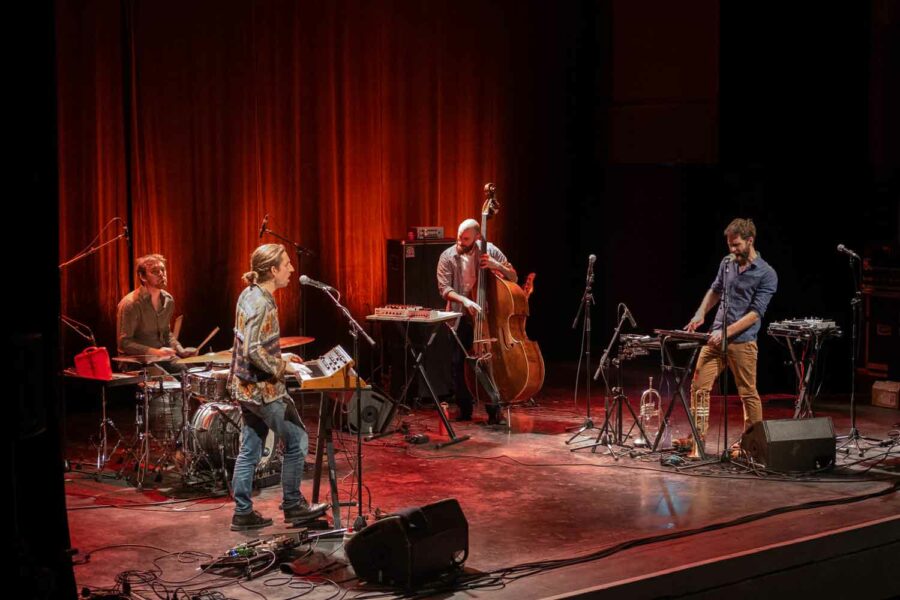 In 2016, trumpeter Romain Maitrot, drummer Léo Delay and his double bassist accomplice Nicolas Canavaggia got together to compose a few compositions and began rehearsing the future quartet.
Joined in 2017 by Léo Molinari on guitar and moog, ATLAS 4tet played its first concerts in Lyon's clubs (Périscope, Labo Music Bar, Clef de Voute), the 4 musicians continuing their studies at the ENM in Paris.
studies at the ENM in Villeurbanne or the CRR in Lyon.
Since then, the group has never stopped working, developing its compositions collectively and refining a personal and expressive ensemble sound, while starting to perform on stages and festivals (Lamartine à la Plage, Jazz à Vienne, Jazz en Herbe, …). Numerous residencies, one foot in Lyon and the other between Tournus and Macon, led to the recording of a first album at the end of 2019, "Eclipse". This opus, offering music that is both intimate and energetic, was released at the beginning of 2020 in Macon and Lyon, respectively at the Crescent and the Périscope (postponed to February 2021).
In 2020, deprived of concerts by the health crisis, the four musicians continue to create in residence, most often at the Galpon in Tournus, but also at the Arrosoir in Chalon sur Saône, in order to compose a new repertoire and to prepare for future tours.
Having made South Burgundy their home, the quartet receives the support of the Centre Régional du Jazz en Bourgogne Franche-Comté for 2022 by benefiting from the missionary device, and performs widely in the clubs and jazz festivals of the region, for a year rich in concerts.
Atlas Quartet
26.04.2023
Nicolas Canavaggia : Megaptera + Castor-Morse
01.02.2022
Léo Delay (Drums, percussion) Nicolas Canavaggia (Bass, double bass) Romain Maitrot (Trumpet, flugelhorn, synth) Léo Molinari (Guitar, synth, voice)

Atlas Quartet
26.04.2023
Nicolas Canavaggia : Megaptera + Castor-Morse
01.02.2022