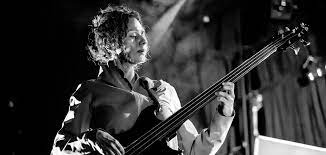 Bass Mastery. Augmented.
Composer and instrumentalist, Floy Krouchi was inspired by traditional Indian music to create an augmented electric bass with amazing sonic properties: the FKBass.
His vinyl and CD albums are released and published on the Soluble dans l'air label and on European and American labels such as Cry of Silence, Arboretum NYC, Magnetic Deer, Gracia Territori Sonor Piety Street Files and Media Archives, and Radio France.
She is also the designer of "Sonic Totem", an interactive sound sculpture, produced at the Hangar art centre in Barcelona.
She won the Villa Medicis grant in 2009 and the Face Council for Contemporary Music in 2016. Her work has been presented in venues such as the Louvre Abu Dhabi, Documenta 13, Centre Pompidou, GRM or Ircam, and she has realized her projects in India, China, the Middle East, Europe and the United States.