Baba Commandant and the Mandingo Band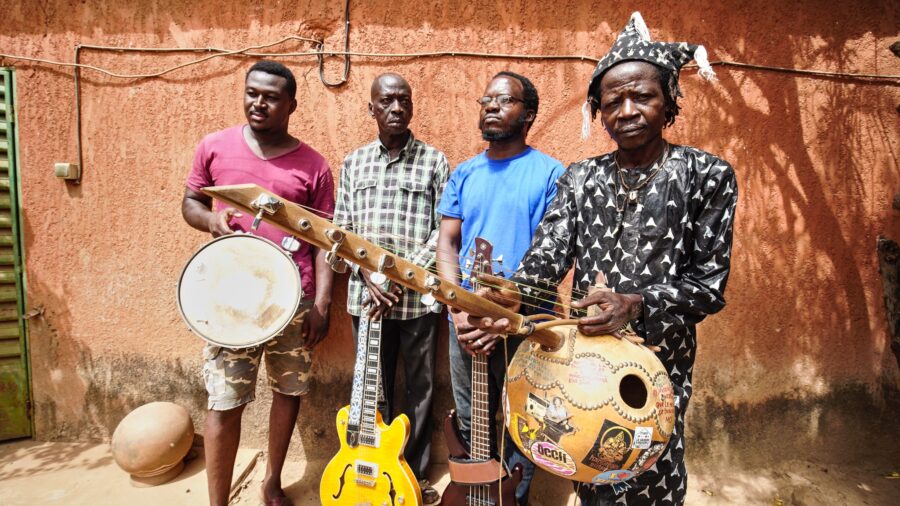 Mandingue fusion
Sonbonbela was recorded in the beginning of 2022 in the Republic of Burkina Faso. The group continue to hone their trademark fusion of Mandingue and afro-beat styles. The Mandingo Band are a hit machine, sculpting seven new tracks of near Beefheart/Magic Band dynamics, Fela inspired groovers dusted out in the Sahel zone, rather than the humidity and sweat of Lagos, creating one of the most original and propulsive musical statements to come from the contemporary West African cultural juggernaut. As with previous releases, the band features the legendary guitar pyrotechnics of Issouf Diabate, truly one of the greatest West African (or Earth for that matter) guitarists of the last forty years. The band is completed by a near bottomless barrel of artistry from the Ouagadougou and Bobo Dioulasso musical talent pool.
On bass guitar, Wendeyida Ouedraogo, on drums Abbas Kabore, and on percussion and balafon, Nickie Dembele. Leading the charge again is the captain himself, Mamadou Sanou on the Doso Ngoni featuring one of the most distinctive voices of the modern era. The opposite of the banal trends of auto-tune that have pervaded most of West African popular music, Baba's voice still impresses with its gravel and grit, showcasing a range that is ancient and defiant in equal measure. This LP is a non-stop hit parade of afro-beat bangers destined to light dance floors and living rooms ablaze!!!
This album is dedicated to the memory of Massimbo Taragna, the bass player extraordinaire who was an integral part of the Mandingo Band's trance stun musical power who passed away in early 2022.
Baba Commandant and the Mandingo Band
21.06.2023
Baba Commandant (voice, Donso N'goni)
Issouf Diabaté (guitar)
Wendeyida Jessie Josias Ouedraogo (bass)
Cheik Abbas Kabore (drums)
Baba Commandant and the Mandingo Band
21.06.2023